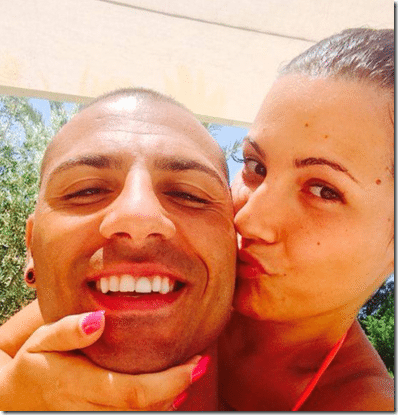 Meet 29-year-old Daphne Quaresma, the lovely wife of soccer player Ricardo Quaresma. According to reports, Her man scored a goal against Bayern Munich in the Champions League! The 31-year-old scored an early goal from the penalty spot in their quarter-final clash with Bayern Munich.
Daphne, who's name is also spelled in some sites "Dafne" is a Portugal native and is the mom of the couple's two-year-old son. Her man is already a daddy to daughter Ariana, as result of his relationship with ex-girlfriend Katie Costa.
Their relationship moved fast, Daphne became pregnant after dating briefly but the addition of Ricardo's first boy and the first child for Daphne seem to have made their bond stronger. The couple met through mutual friends on a night out, and began dating shortly afterwards.
Things were a bit complicated at the beginning. They started dating from a distance and were together only when the footballer took advantage of a break from Besiktas training and came to Portugal. After the news of the pregnancy she moved to Istanbul, Turkey, and the became inseparable.
Ricardo and former gal pal Katie, dated for two years, they were together for a few years. They split when Katie was five months pregnant and things went south when he didn't think the child was his.