Meet Denise Callanan Jones
Denise Callanan Jones is the wife of former NFL player, Clinton Jones Jr. better known as C. J Jones. Her husband happens to be also, the older brother of Corey Jones –the 31-year-old man who was gunned down by a police officer in Florida.
Denise Callanan Jones and her family, are devastated after learning her brother-in-law, Corey Jones was fatally shot by an officer in plain clothes on Sunday, October 18th.
Denise Callanan Jones' husband, C.J Jones, was born September 20, 1980. He is the son of Anita Banks (deceased) and is the oldest of three. C.J Jones was followed by brother, Corey Jones. His surviving sibling is sister, Shakinnya Malissa Jones.
C.J Jones attended Santaluces High School. He later enrolled at Garden City Community College and was later transferred to Iowa University, where he majored in Sports Management. From 2004 – 2009 C. J Jones was an NFL Wide Receiver.
During his career with Garden city he recorded 74 receptions for 1,463 yards and 18 touchdowns. In 2003 he was signed to the Denver Broncos. During his 5-year-career in the NFL he also played for several NFL teams including the Denver Broncos, Seattle Seahawks, Kansas City Chiefs and New England Patriots.
Following his brief NFL career, C.J Jones became a businessman. In 2010 he founded Hyper Fitness sports training, he is currently the CEO. He is also the owner /head chef at The New Vegan.
Hyper Fitness sports training, specializes in major sports Football, track, baseball, softball,swimming,soccer,basketball,lacrosse,volleyball.] Form running, speed, Agility, Conditioning, sports specific, Position Specific, flexibility, kid training, men and women bootcamps, etc.
While the New Vegan, promises Healthy eating.. NO GLUTEN, NO WHEAT, NO DAIRY, NO SOY, NO GMO . JUST AMAZING SUPER FOODS !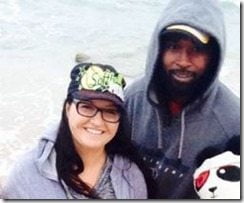 Denise Callanan Jones was born Denise Elizabeth Callanan. She and her husband C. J Jones, have at least one child together. Daughter Nariyah Nita Jones, born on June 08, 2006.
On October 20th, Denise Callanan Jones created a GoFundme page in name of her beloved late brother-in-law. The Justice For Corey page, states "Everyone knew Corey as a peaceful soul, a passionate musician, spiritual, driven, generous, happy, positive, intelligent, thoughtful, respectful, and loving."
The funds raised will go towards the expenses of a funeral ceremony.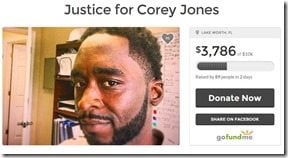 31-year-old Corey Jones, played the drums since he was a young kid. He was a popular drummer in South Florida. Corey even played for a church's band. He worked as an inspector for a local city's housing authority.
Corey's car left him on the side of the road in the early hours of Sunday, October 18th. At around 3:15 a.m. he was shot and killed by an officer named as Nouman Raja.
Reports states, the officer fired six times, hitting Corey three times. It is believed Corey, did not fire his gun.