Meet Jennifer Pena
Hot fitness competitor and model Jennifer Pena, is the girlfriend of MLB player, Edwin Encarnacion. Her 32-year-old man is currently an Infielder for the Toronto Blue Jays is on for tonight's game 6 of the ALCS.
The native of the Dominican Republic was drafted by the Texas Rangers in the ninth round of the 2000 amateur draft. He made his MLB debut in 2005.
He was acquired in a deal with the Reds at the 2009 non-waiver Trade Deadline, sent to the Minors after slumping in 2010, designated for assignment, then recalled the following month. In 2012 his luck made a turn and he agreed to a three-year contract extension worth $27 million — including a $10 million club option for 2016 — in a deal that will keep him in Toronto until at least this season.
Jennifer Pena is not to be mistaken with a big Mexican pop singer. Our Jennifer Pena is a Bikini Competitor.
We rarely see WAGS being as famous as their male counterparts but with Jennifer Pena we have an exception. The hot Latina, is well known in her country. She is a former beauty queen, Jennifer Pena was crowned Miss Dominican Republic US 2007. She also holds the Miss Dominican Republic Atlantico 2004 title. She represented the Dominican Community in the USA in Miss Dominican Republic 2008 where she came sixth in place.
Like many beauty queens, she has made a career for herself as a Radio and TV personality in D.R. Most recently she felled into the Bikini Competition industry and she's doing a pretty good job! In 2014 Jennifer Pena became the overall winner at the Region Norte bikini competition.
It appears Jennifer Pena is quite the competitor. It must run in the family. After all, she is the daughter of former all-star catcher Tony Pena. Her father is one of the most admired and celebrated Dominican baseball players of all time. Jennifer Pena is also the sister of Tony Pena Jr. and Francisco Pena. Both MLB players.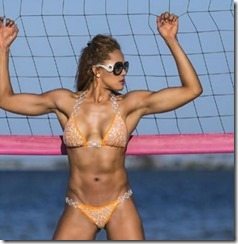 When asked who does she look up to, she said: "My dad, Tony Pena. Because I value his hard work and dedication, and also admire how he got himself and his family out of poverty and focused on making his dreams come true."
Jennifer Pena grew up in baseball, she makes for a perfect wag and plus has a sick body!
It must be a complicated night for Jennifer Pena. Her brother Francisco Pena plays for the Kansas City Royals and her boyfriend for the Jays! Either way, she's celebrating tonight!
You can find Jennifer Pena on Twitter here, Instagram here.