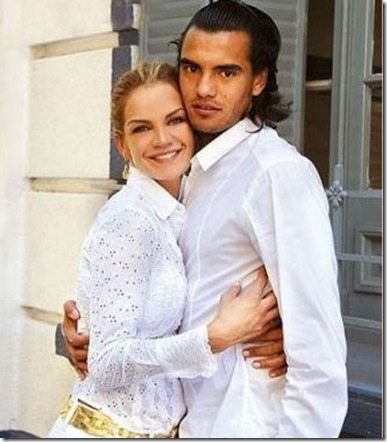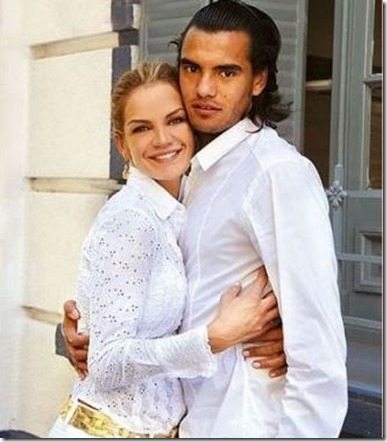 Meet 36-year-old Argentine model/actress Eliana Guercio, the wife of Argentine Goalkeeper Sergio Romero. Her hubby is currently Monaco's goalkeeper, on loan from Sampdoria.
Nicknamed "Chiquito" completed his apprenticeship in the youth ranks at Racing Club, where he made his first division debut in late 2006. Though few chances came his way with his club, that did not prevent him from excelling at the FIFA U-20 World Cup Canada 2007, where he conceded just two goals in helping Argentina take the title. He won his first full cap for his country under Diego Maradona, who named him for a vital South Africa 2010 qualifying match against Paraguay in 2009. He has remained his country's first-choice custodian since then, despite his lack of first-team football at Monaco.
Let's find out what drives Romero.
Eliana born October 12, is very well known in her country, she came to prominence after performing a full nudity in a show called "Más que diferente" She also worked in shows hosted by Gerardo Sofovich in Buenos Aires's Corrientes Avenue.
The first time she and Sergio's paths crossed was in March of 2008, at a nightclub in Comodoro Rivadavia, the city where Sergio lived until fifteen, when he came to Buenos Aires to try his luck in the arch of Racing. She appeared as the figure of the night and he was in the VIP with friends.
She said at the time
He got my attention right away because of the way he introduce himself to me, he was sweet and a gentleman, not like: What? You don't know who I am?"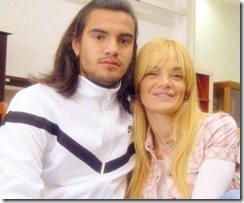 At the time with their busy schedules –Eliana working in theater and in the Argentine version of Dancing with The Stars and Sergio having to leave the country to join the Olympic team of Beijing 2008 –the blonde decided to denied their romance saying
"I always said that I am alone, and I'll keep saying it. It's a decision I made two years ago to differentiate myself from the girls coming out to say they are brides to be on TV stations
But after seven months of dating, the TV star and the star goalkeeper of the Beijing Olympics tied the knot in late 2008. At the time she was 30 and he was 21-years-old. They married in the Registry Office of Lanús Oeste. With strong rumors of pregnancy, Eliana and her 9-year-junior hubby Sergio honeymoon to Holland, where he integrates the campus of AZ Alkmaar.
The blonde was highly criticized after leaving her vedette and actress career for the role of a full time wife to go to Holland. 
Many did not believe in their marriage but after six years and two children the couple has proved them wrong. Eliana and her hubby became parents on February 2010 with the birth of daughter Yazmín and for the second time with daughter Chloe.
A fiery Guercio –who is in Brazil supporting her man –made some comments recently regarding Rihanna's interest in her husband saying
If we win the World Cup, I will let her have him for a week
The bets are set!