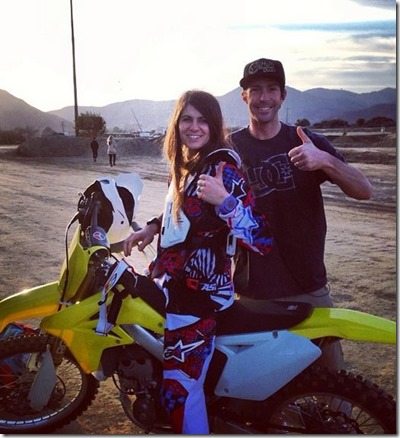 An X-Games gold medalist skateboarder chick for an X-Games gold medalist MotoX Freestyle competitor, "Lyn-Z" Adams Hawkins and hubby Travis Pastrana are one match made in heaven. If you are an X-games fan likes us, you've probably heard of her before but if not, feel free to check out below some interesting facts we thought you would like to know.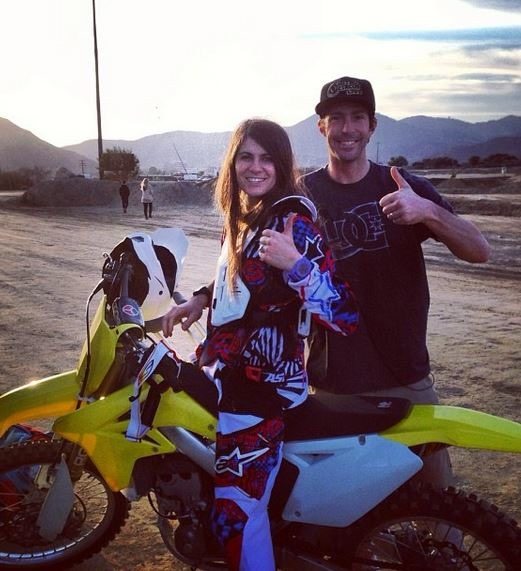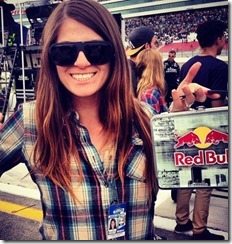 Born Lyndsey Adams Hawkins on September 21, 1989 in San Diego, California. Lindsey has been involved in athletic activity since an early age.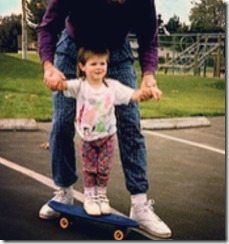 She began surfing at age 6 and did her first professional skateboarding competition at 12 years old. She has traveled all over the world riding her skateboard and at 24-years-old, experienced a lot.
Her amazing stack of awards include 8 X Games medals (3 GOLD, 4 Silver, 1 Bronze). 2009 ISF Women's Skateboard Vert World Champion. First woman to jump the 55 foot gap of The Mega Ramp. First and only women to do a Mctwist 540 on a skateboard. First woman to do a kick flip indy. A Character in multiple Tony Hawk Video Games.
She played every sport you can think of as a kid. At 9 she started competing in surfing and loved it but when she truly found skateboarding at about 11, young Lyn-Z just couldn't turn back! She later would found snowboarding at about 15 and competed in that for a few winters but found it too difficult to balance her time between that and skating.
A lot of women's competitions have been taken out of events making it hard to maintain a carrier as a woman skateboarder but lucky for her, she's been able to be a part of The Nitro Circus Live tour the past 3 years.
She has an unbelievable support system consisting of her wonderful and very famous husband, her family, her extended family, friends, and sponsors.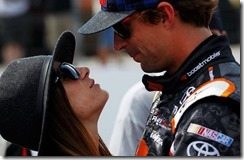 She tied the knot to Travis Pastrana on October 29, 2011 following her very public proposal. In June 4, 2011, during a live performance of Nitro Circus, her hubby popped the question. We certainly will not see her wearing a dress too often but she looked gorgeous on her wedding gown.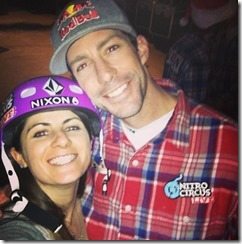 The couple became first time parents when she gave birth to –their only child for now –little baby girl, Addy Ruth; who was born on Labor Day, 2 September 2013.
Hearing your significant other talking about you is a pretty special thing specially when he talks about your back flips, so when asked about his wife, Travis said
Well I've known her forever; she won the X Games for the first time when she was 13 years old. We have the same sponsors and same agency, and recently she came out to try the mega ramp. She's the only girl to have hit that on a skateboard and we wanted to get her for the Nitro tour. She came out and just launched the big wheel right away; no questions asked, ate and just came up laughing. She has the Nitro mentality and before that Jolene was the only girl we had on the crew.

It's cool because both Lyn-Z and Jolene can be girly and pretty and , but at the same time they're freakin' gnarly.
Lovely huh!
She sums it all up by saying
My name is Lyn-z Adams Hawkins Pastrana. I get to skateboard for a living and travel the world with my husband Travis and our daughter Addy
According to her Facebook, she now rides dirt bikes for fun on her spare time has decided she want to learn to ride BMX.
You can find the X-games athlete, wife and mother of one on Twitter here and Facebook here.