Meet Ellie McKeating
Stunning Ellie McKeating is the girlfriend of Scottish Rugby star, Richard James Gray, better known as Richie Gray. Her 6 ft 10 in, blonde boyfriend is a Lock for the Castres Olympique.
According to his player profile, Richie had a winning start to captaining Scotland under-20 in March 2009. He stepped up the international ladder with his debut for Scotland off the bench against France in the Six Nations opener at Murrayfield in February 2010. That followed his first appearance for Scotland A in the 38-7 victory against Tonga at Netherdale, Galashiels, in November after progress up the age-group ranks at every level from under-17 to under-20.
Richie made his first start for Scotland in the defeat to New Zealand in the EMC Autumn Test at Murrayfield in November 2010. Gray was named RBS man of the match for his contribution in the lineout and open play to Scotland's 21-8 March 2011 Murrayfield win against Italy.
Girlfriend Ellie McKeating must be excited to witness her man battling at the Rugby world Cup soon, but nothing can beat a woman on her engagement day.
According to Gray's Facebook page, he popped the question to beautiful Ellie McKeating just a few days ago!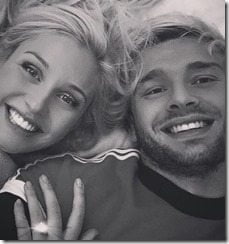 21-year-old Ellie McKeating was born Ellie Anna McKeating in Glasgow raised in a large but close knit extended family, and is an easy name to recognize, the Scottish native is a model who represented Scotland at the Miss World 2014 competition.
The blonde gal is so excited about  her engagement she even changed her Twitter bio to: "Soon to be Mrs.Gray – Former Miss Scotland – Miss World Quarter Finalist – Mathematics Student – Beatson Cancer Charity Ambassador"
During an interview, she talked about her reign as Miss Scotland, saying: "It's been a real eye-opener. Pageantry is so much more than meets the eye onstage and I think it should be celebrated more often. I never thought for one minute that I would have been given so many amazing opportunities by simply entering a competition. Being Miss Scotland has been life changing and I wouldn't trade one second of it for the world."
Ellie McKeating said while competing at Miss World last December, she was in her 2nd year studying Film & Media and Marketing and the University of Stirling, she revealed aspirations of a career on television. In her spare time, the blonde likes photography, film editing, and cooking, her favorite sports include skiing, swimming and yoga.
We wish the very best to the couple!
You can find Ellie McKeating on Instagram here. Don't miss her video below!