Stacy Greenberg
Stacy Greenberg is the stunning wife of ESPN sportscaster, Mike Greenberg. Her husband who is the NY Times best-selling author is perhaps best known for his ESPN Radio show Mike & Mike with Mike Golic. Keep reading to know more about his lovely wife, Stacy Greenberg.
Mike Greenberg College
Stacy's husband was born Michael Darrow Greenberg to parents Harriet and Arnold Greenberg. The NY native attended the United Nations International School. He is a graduate of Stuyvesant High School in Manhattan. The son of the writer's parents went on to attend the prestigious Medill School of Journalism on the campus of Northwestern University.
Mike Greenberg Career
Following his college graduation, he held several roles in the Chicago area, including anchoring for local radio stations WSCR and WMAQ, writing columns for the Copley News Service, and reporting for SportsChannel Chicago.
Mike, also known as "Greeny," joined ESPN in September 1996 as an anchor for the November launch of ESPNEWS. He later anchored SportsCenter for many years, even long after Mike & Mike launched on January 3, 2000.
Greenberg has also been part of ESPN Radio's major feats. In 2007, Greenberg's first book, Why My Wife Thinks I'm an Idiot, spent five weeks on the N.Y. Times Best Sellers list and was nominated for a Quill Award.
In April 2010, Greenberg and Golic released Mike & Mike's Rules for Sports and Life, which reached number 3 on the N.Y. Times Best Sellers List.
Mike has written two novels. In 2013 he debuted his first novel, All You Could Ask For, as a tribute to a family friend, Heidi Armitage –who lost her battle to breast cancer in 2009.
On April 18, 2012, he co-hosted Live! with Kelly Ripa.
In 2016, Greenberg was inducted into the NAB Hall of Fame and into Northwestern's Medill Hall of Achievement.
He filmed his last Mike & Mike program on  November 17, 2017.
On April 2, 2018, Mike Greenberg joined the cast of Get Up!
In October 2021, he was named NBA Countdown's new host.
Mike Greenberg Net Worth
As of 2023 and according to Celebrity Net Worth, Mike Greenberg has a net worth estimated at $28 million. 
Mike Greenberg Contract  and Salary
According to the New York Post, Mike Greenberg earns an annual salary of $6.5 million.
Mike Greenberg Wife
But Mike isn't the only writer in his household and he sure isn't the cutest either.
Greenberg and his wife, Stacy, have been married since 1997 and live in Westport, Connecticut.
Stacy Greenberg is a columnist for Pursuits and a frequent contributor for ESPN radio and has frequently appeared on Mike & Mike.
But her heart is in marketing. Stacy Greenberg also known as Mrs. Greeny is a former luxury hotel marketing consultant.
She's worked in the travel and marketing industries for over 15 years. For over a decade, Stacy Greenberg worked at Starwood Hotels and Resorts Worldwide as the Director of Marketing for the St. Regis and Sheraton brands and Senior Director for Starwood Residences roles. Prior to Starwood, Stacy worked as Manager of Marketing for Hyatt Hotels. You can check out her LinkedIn here.
At Pursuits, she must interview celebrities and athletes, bringing insight into their lives and travel habits.
Mrs. Greenberg was born Stacy  Gray Steponate on March 11, 1965, in  Chicago; she also used to run a blog called Gate1A.com.
Nowadays, her husband makes millions, but when they first got together, Stacy was the breadwinner, according to an interview in which her hubby was promoting his book Why My Wife Thinks I'm an Idiot.
Stacy and Mike tied the knot in 1997 after meeting in Chicago. The blonde is the proud mother of the couple's two children: 22-year-old Nicole and 20-year-old Stephen.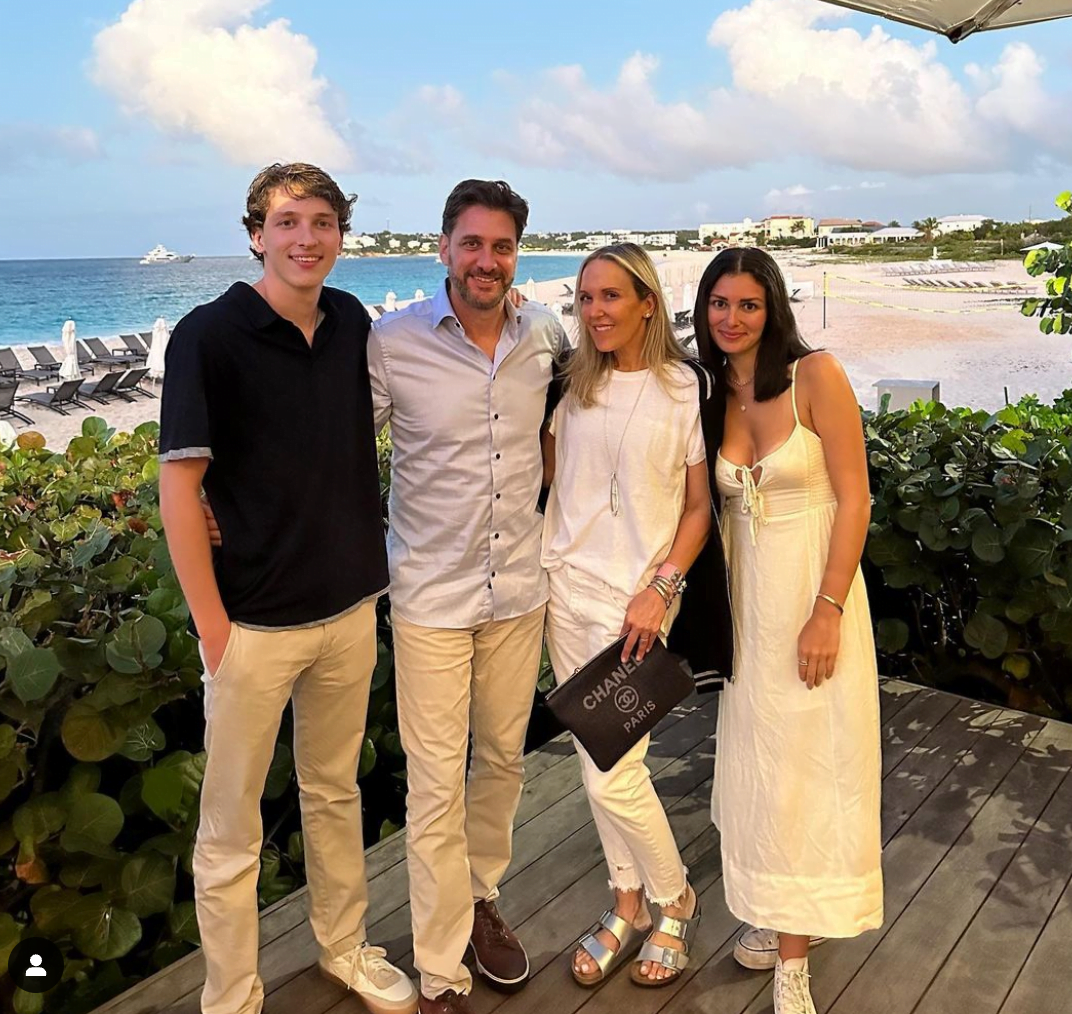 Pin
Mike and his wife Stacy created the Heidi's Angels Foundation to fund cancer research in 2013.
You can check out Stacy Greenberg on Twitter here.