Brazilian lineswoman Fernanda Colombo took twitter by storm after she served as the assistant referee in Brazil Cup match earlier this week.
The 25-year-old is clearly making her way into her career as a female referee, she ran the line for Sao Paulo's 3-0 Copa do Brasil win over CRB on Wednesday.
Born April 24, 1991 Fernanda Colombo Uliana is originally from Brazil and has been appointed to her first Brazilian Serie A match on Sunday.
By age 20, she was the assistant referee FHR and acted on the decision of the Access Division Santa Catarina State Championship. Fernanda was the newest in the context of arbitration of the Santa Catarina Football Federation.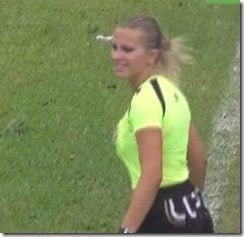 She tells how she discovered her passion for the sport, while at University she was a track athlete and her trainer approach her to ask her if she liked football and she said yes. The trainer told her about a course from the federation and she ended up taking it. From that point she became immerse in a world dominated by men.
According to her Facebook profile –where she is followed by over 20K people –she currently resides in Florianópolis, Santa Catarina. She is a personal trainer by profession. She has a Bachelor of Physical Education-UFSC with Specialization in Cardiac Rehabilitation and Special Groups.
As a trainer, her work includes
– Training aimed at the health and quality of life;
– Preparation for tendering;
– Physical Evaluation;
– Personal Runner;
– Spreadsheets training;
– Fitness Beach
She says
My goal as a professional is to coordinate the entire process so that it occurs in a safe and effective way
She currently works as assistant football Arbitrator by LICOSAI / FCF / CBF.
According to the DailyMail, Fernanda will run the line in her Brazilian top-flight match when Atletico Mineiro (who boast former Barcelona superstar Ronaldinho) take on Cruzeiro.
What do you think of her work?
Find the blonde on Facebook here.