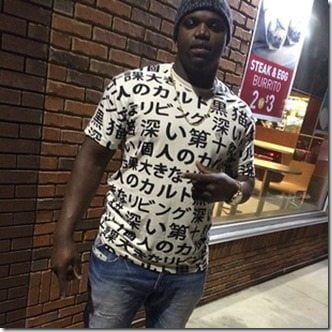 Auburn Tigers offensive tackle, Greg Robinson certainly feels grateful for his achievements, the kid really knows what sacrifice and hard work is! He and his family originally from Louisiana, had to be relocated to Houston due to Hurricane Katrina and also the death of his father, Greg  Blackledge at age 54, deeply affected him. We are sure his father would be very proud to see his son at the verge of becoming a top-5 pick in tonight's NFL Draft!
Greg's father passed away in April '13, his mother struggles to make ends meet and he has four siblings, two of which have been incarcerated for selling drugs. A lot of kids would have struggled in that situation. Robinson met the challenge head-on and left school early to support his family.
This is Greg in action on the field
And this is Greg in action with the ladies
As we can see the son of the late Greg Blackledge and Rhonda Robinson, is very popular with the females. And truth be told when you have skill and talent as he clearly does, girls are going to come flying left and right; but the Public Administration major doesn't seem to have his eye on some special girl, apparently he keeps his options open.
Highly recruited out of Louisiana, where he was a state champion shot putter. Redshirted in 2011. Started 11-of-12 games played at left tackle in '12 — was benched against Alabama A&M. In '13, started all 14 games at left tackle for the national runners-up. Has a right meniscus surgery on his medical record.
His nfl.com profile describe him as
Big, strong, athletic, overpowering left tackle with the raw potential to become a premiere, franchise left tackle. Is only a third-year sophomore and two-year starter and still must improve his hand use, footwork and technique. However, he is undeniably gifted and capable of walking into a starting-left-tackle job in the pros and paving the way in the run game.
We certainly can't wait to hear more about him in the near future!
You can find him on Facebook here and see more pictures of him here.