Roxana is the wife of Chilean footballer, Gonzalo Jara who currently plays for Mainz 05. Her man is in the middle of a controversy involving another opponent.
Reports say Gonzalo was suspended for remainder of Copa América after he was at the center of a bizarre red card incident, in which he can be seen touching Edinson Cavani inappropriately on the backside!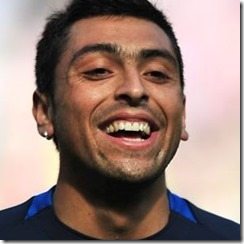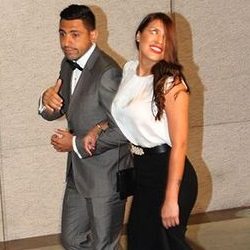 According to Nottinghampost, during a Copa America game between Chile and Uruguay, Edinson Cavani, playing for the latter, was sent off for striking Jara in the face. Replays however, seemed to show he was provoked by Jara, –who 'inserted finger into Edinson Cavani's ' and then fell dramatically to the ground when Cavani raised his hand.
Gonzalo Alejandro Jara Reyes was born August 29, 1985 in Santiago de Chile, Chile. The defender is 5 ft 10 in tall and weights about 150 pounds.
Described as a versatile defender, Jara has played for his home country national team since 2006, earning over 75 caps. He participated in the 2010 and 2014 FIFA World Cups as well as the 2007 and 2011 Copa América tournaments.
In 2013 he joined Nottingham Forest,on a permanent one-year deal. Following his 2014 released form the club, he was given a two-year contract with an option for a third year by 1. FSV Mainz 05.
According to Spanish site latercera, he didn't have many girlfriends and by age 19 he and Roxana were married. The marriage produced two children, sons: Nicolas and Lucas.