Katie Ridnour the wife of NBA point guard Luke Ridnour  could be the new wag coming to Oklahoma. A crazy day for Ridnour and his family, it  all happened on June 24, the last team to claim the Idaho born player were the Oklahoma City Thunder who traded Jeremy Lamb for Luke, before them he was traded to the Charlotte Hornets in exchange for Matt Barnes, and before that he was traded to the Memphis Grizzlies in exchange for the draft rights to Jannis Tigma.
6'2" Luke Ridnour born in Coeur d' Alene, Idaho attended Blaine High School  and the University of Oregon before he was selected by the Seattle SuperSonics in the 2003 NBA Draft. In 2008 he signed with the Milwaukee Bucks and two years after that he signed a four-year $16 million contract with the Timberwolves.
He returned to Milwaukee in July, 2013  but then was traded to the Charlotte Bobcats along Gary Neal in February, 2014,  four months later he inked a contract with the Orlando Magic.
Luke got married to his lovely wife Kate Ridnour on August 24, 2005 in Spokane. They welcomed their first child Trendon Lukas on April 13, 2009, twins sons Kayson and Beckett were born in May, 2011; Kayson was born with esophageal atresia, he spend months in the hospital required several surgeries and round-the-clock care. The youngest of Katie and Luke Ridnour's four sons  is Ryker Joshua born in April, 2015.
Katie Ridnour, 32, was born Katherine L. Reome on June 25, 1983 in Newport, Washington to parents Wayne and Patricia. Katie has two sisters  Jessica, and Sarah.
Mrs. Ridnour grew up in in Nine Mile Falls, where she attended Lakeside High School, after she graduated rom Lakeside in 2001 she got a scholarship to play volleyball at Central Washington University. Katie met her husband while she was still in high School, during a luncheon organized by the Rotary Club who named her the female athlete to represent the female side on a basketball state tournament and Luke was the male athlete  to represent the guy's team, they started dating in college and got engaged in June, 2005.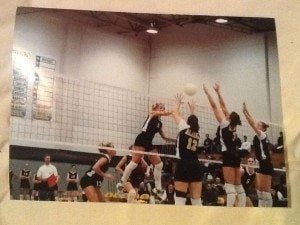 5'7" Kate Central setter with the Wildcats Volleyball team was selected the Great Northwest Athletic Conference Volleyball Player-of-the-Year during her senior year.