Iran Angelo de Souza is the wife of Zenit Saint Petersburg's forward Givanildo Vieira de Souza better known as "Hulk" for his amazing stamina described as a powerhouse of a centre- or wide-forward.
Hulk's wife brags about her man's "big" attributes. Hulk's booty captures all the lusts of women in Brazil. A few months ago a Brazilian television channel measured the player's and found that its dimensions were greater even than the winner of the editions of 'Miss Bumbum' an annual competition that recognizes the best female booty in Brazil.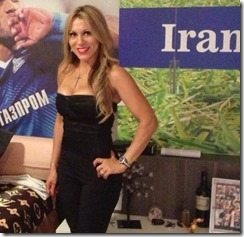 Brazilian women also like big butts on their man and Hulk's woman ,Iran Angelo de Souza, is proud to be married to one of the current " symbols" of Brazil.
"He is physically privileged, and I can not deny"
She also explained how difficult it is to get her man new underwear. With high spirits, Iran shared a funny story.
"A woman began to feel his in front of me. I was surprised but I got a laugh. His ' ' attracts attention, you can not deny. "
Iran and Hulk take eight years together. They met at a Brazilian restaurant in Japan when he, between 2005 and 2008, played for three teams in the country.
Iran is also the mother of the couple's two children, sons Ian and James, five and three years-old respectively. Apart from playing with electronic games, Hulk and Iran take advantage of the amusement parks and shopping to entertain their little boys.
My kids are small. They end up getting very lonely for not having many friends there. Is the difficulty of the language, whether they study at the International School, where they speak English. They also understand and speak Spanish. But they are still small. We are dedicated to our children too. Sometimes we spend all day playing video games.
said the wife of Hulk. Pretty Iran speaks wonder about her man being a great father. The couple has been through a lot together not only the happy moments but also the not so happy. Iran's hubby is one of seven children, a single boy in a sea of sisters – three older, three younger. Together, they used to go to the city's central market at 5am each day, where their parents, Gilvan and Maria do Socorro, worked.
He is extremely close to his sisters so, when his youngest Angelica Aparecida Vieira was retuned unharmed after being kidnaped at gun point two years ago he was very happy.
Despite the intense cold, which is always emphasized by Iran, life in Russia is more quiet, she said. Since the kidnapping of the sister of the player, in November 2012, the family had to make some adjustments, when in Brazil and now has to walk always with bodyguards. This is not necessary in Russia.
You can see more lovely pictures of the couple in his Instagram here.