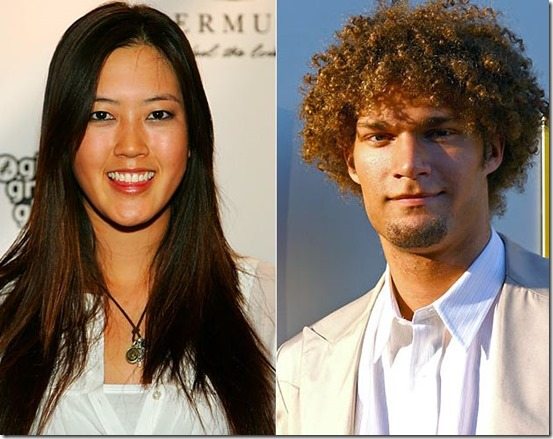 7-foot-1 former Phoenix Suns center Robin Lopez, is the boyfriend of one of the biggest stars in women's golf, Michelle Wie. The couple is said to have met while they both attended Stanford in 2008.
Currently Lopez –who's twin brother is also a baller playing for the Brooklyn Nets –plays center for the Portland Trail Blazers. The couple first denied they were an item but you know how this things work, they are always only good friends until images prove otherwise.
The basketball player must be ecstatic for his golfer girl, they make one great celebrity-athlete couple. His girlfriend –a former teen prodigy –is making the headlines as she bounced back from a late mistake at Pinehurst No2 to bury a 25ft birdie putt on the 17th hole. That sent the 24-year-old to her first major championship, a two-shot victory over Stacy Lewis in the US Women's Open.
She now has four career victories, and moves to the top of the LPGA money list after winning the biggest event in women's golf!
His gal has described her ideal man by saying
"My height is 183 centimeters [6 feet], so he must be taller than that. A guy that is self-confident, self-aware, and fun…
So, probably that tells us a little about Lopez. The 26-year-old doesn't seem to mind his girl takes all the media attention; with over 140k followers on Twitter the lovely Wie seems to be a little more famous than her curled-up guy.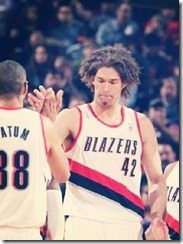 But Lopez is a fan favorite among the Portland faithful, reckoned for his blue-collar style of play he recorded 29 double-doubles and broke the franchise single season record for offensive rebounds during his first season with the Blazers.
His girl was famous and was cashing in the big bucks even before they met. Michelle the only daughter of Korean parents, became a pro at age 15, with it came great publicity and endorsements. In 2007 Wie was ranked #4 in the Forbes Top 20 Earners Under 25 with an annual earnings of $19 million!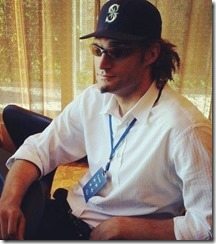 During his years at Stanford Lopez had great recognition but it was said his brother Brook, who also played for the team, was even more talented than him.
Both Robin and Michelle are a very private couple but still we wish them the best and we also want to say to his girl major congrats! What do you think of them?
You can find Robin on Twitter here and on Instagram here.