Isabel Dechert is the girlfriend of Borussia Dortmund defender Neven Subotic. Subotic previously played for Mainz 05 and is a Serbian international.
Isabel Dechert is among the well known WAGS in Germany and is often spotted in stadiums supporting her man and his team. The couple looks like they are inseparable, they do everything together!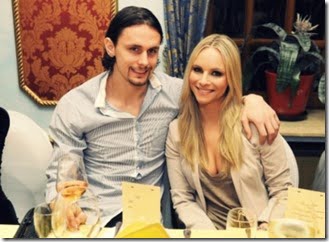 Dechert is a combination of sports meets beautiful! The young is always seen impeccable even when she is doing her fitness routine next to loving boyfriend, soccer man Neven. How romantically soccerish!  And talking about soccer; Dechert's man Neven, will be starting center back for the Borussia Dortmund team that faces Bayern Munich on Saturday in the world's marquee annual soccer event.
Isabel's love interest Subotic was discover by coach Keith Fulk, when he was only a 15 year old playing in the park. But after two weeks of watching him closely Fulk approached him and the rest we can say it was destiny. Now, 24 year old Subotic is a seasoned six-year pro who has won two German league titles, but in 2004 he was just a 15-year-old kid training with his father, Zeljko, at G.T. Bray Park in Bradenton.
"I was at the park every day, either by myself or with my dad, just working on crossing drills, playing in pickup games, doing everything,"
Fulk watched Subotic play that weekend on a local under-18 team and in a "Mexican league" amateur game. And even though Subotic had been cut from tryouts for the Florida Olympic Development Program a couple months earlier, he became part of the U.S.' elite under-17 residency program.
"That's really when my life changed," Subotic said. "That was the first time I was in a professional atmosphere. We had training every day, we had great matches, we were learning tactics. It wasn't all about fun. You had to bring performance onto the pitch, otherwise you weren't going to play."
Want to catch the couple hanging out together don't miss this weekend the Champions League final!
You can see more pictures of the German power couple here.