Isabelle Matuidi
Isabelle Matuidi is the gorgeous wag married to French soccer player, Blaise Matuidi. Her 5'11" midfielder currently plays for Juventus, prior to signing with Juve in August 2017, Matuidi played for PSG.
Blaise Matuidi is of Angolan origin, born on April 9, 1987, in Toulouse, France. Matuidi grew up in Fontenay-sous-Bois in the district of La Redoute. His parents, Faria and Elise Matuidi, had four children before him Emmanuel, Jacqueline, Sylvie, and Junior. Blaise attended college Victor Duruy (Fontenay-sous-Bois), before heading to the Clairefontaine training center for three years. Blaise Matuidi debuted professionally for Troyes in 2004.
It was at Troyes, in the Aube, that "Matuidi" spent his adolescence. He played four years in Saint-Etienne. He appeared in 132 matches for Saint-Etienne from 2007 to 2011.
It was at the Stade Geoffroy-Guichard where Matuidi managed to come to the fore. Immediately after his arrival, Matuidi helped the club earned qualification into the UEFA Cup in 2008 and as a result, caught the attention of the likes of Arsenal and Milan.
He joined Paris Saint-Germain in 2011 and became a member of the French national team in 2010.
Isabelle
But you are here to get to know better the lovely Isabelle Matuidi and be assured that we'll share everything we know about her.
The stunning Troyes native, Isabelle met her then-future man while they are still teenagers. At that moment, Blaise continued his athletic training at the training center, Troyes.
Soon after meeting they began dating and have been since then, inseparable. For the French, the couple is the picture of love. They keep their stuff very private, away from the media frenzy –which makes them even more interesting and mysterious.
Despite the fame of her man, Isabelle Matuidi seems perfectly ok with being somewhat unknown to the public. She has done little to expose herself in the press –and social media is set to private –except when it comes to showing her support for her husband in the stands; a duty that comes with the title of being a wag.
Blaise proposed in 2016, according to the former Isabelle Malice it all happened when they went to the movies to see Star Wars.
"In February, he took me to the Grand Rex to see the movie Star Wars. We arrived in the room, but instead to see the usual movie's trailers I saw a small film, a montage of our family photos, which ended with a request for marriage."

"I could not believe it, I burst into tears, and he did too."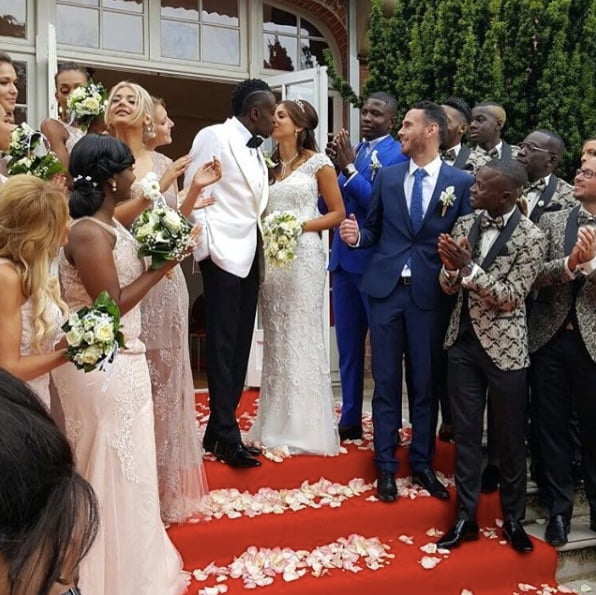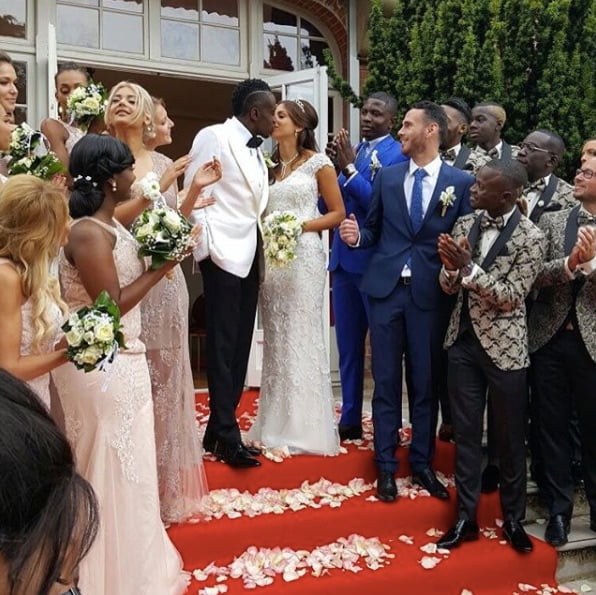 The lovely couple tied the knot on July 1, 2017, in Paris,  they already are the proud parents of their three children: daughters Myliane, Naëlle and son Eden.
There is no doubt Isabelle Matuidi keeps the balance for her man. Blaise describes Isabelle as a strong woman who can keep feet on the ground. According to French media, Isabelle is so perfect that she handles the family finances and even avoids her hubby unnecessary expenses.
According to some sites, the mom of three is an osteopathy student. She is the owner of Gimmini, a sports center for children. You can find lovely Isabelle Matuidi on Instagram here.