Meet Izabel Goulart
Izabel Goulart is the model girlfriend of 25-year-old German soccer player, Kevin Trapp. Paris Saint-Germain goalkeeper and Goulart were spotted soaking under the sun while on the beach in Rio de Janeiro, Brazil on Monday, the Daily Mail reports.
The couple make for one of the most typical matches when it comes to soccer player and their girlfriends. Stunning Izabel Goulart doesn't need much of an intro, the brunette is a Victoria Secret model.
Footballers usually go for the models so we are delighted with their relationship. They make for one of the hottest couples, with her looks and his physique, their babies would absolutely be gorgeous.
Izabel Goulart has her own success. Last month, she joined the world's most beautiful models in celebrating the Victoria's Secret 2015 Fashion Show afterparty at  TAO Downtown. The 31-year-old has walked in the celebrated show since 2005.
Izabel Goulart is a Brazilian beauty also known for her work with Armani exchange. Her figure has been lauded in the past. According to a Cosmopolitan article, the 5-foot-10 Brazilian stunner clocks in a lot of time at the gym to sculpt those 12-pack abs.
Her popularity is undeniable. On Instagram alone, she has over 2 million followers, compared to Kevin's 254K, is pretty obvious who's winning this match.
Though we are not sure if they are using the boyfriend-girlfriend title, they looked as cozy as ever during their beach outing. Izabel Goulart posted a photo to her Instagram account saying she was in vacation mode.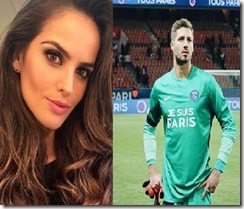 According to recent reports, rumors say, they are in the first stages of their romance. They were all smiles during their trip and put on a PDA display as they jumped in the water. They were spotted embracing and even holding hands as they jumped into the water. Izabel Goulart might be 6-years-older than her new beau, but who's counting right.
As you might recall, Trapp has been romantically linked in the past, to other ladies, including pop star, Rihanna. While Izabel Goulart was linked to businessman, Marcelo Costa back in 2006.
You can find the Brazilian beauty, on Twitter here.
Any thoughts on the new couple? Comment below!