Meet Jackie Woodcroft; she is the loving and pretty wife of Canadian NHL coach Jay Woodcroft, current head coach for the Edmonton Oilers.  Before joining the Edmonton Oilers in 2022, Jay Woodcroft was the head coach for the Bakersfield Condors of the AHL.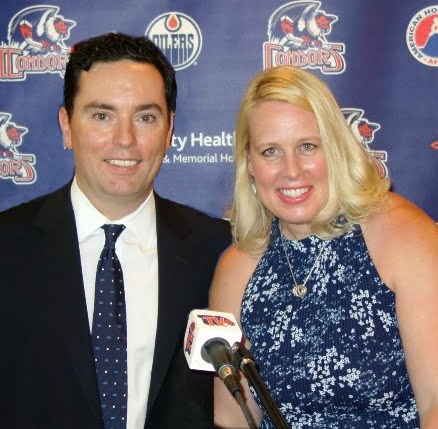 Jay Woodcroft Family
Edmonton Oilers head coach, Jay Woodcroft is one of three sons born to Jem (nee. Cradock) and Frank Woodcroft, a nurse and sales worker, respectively. Jay had two older brothers, Craig and Todd Woodcroft.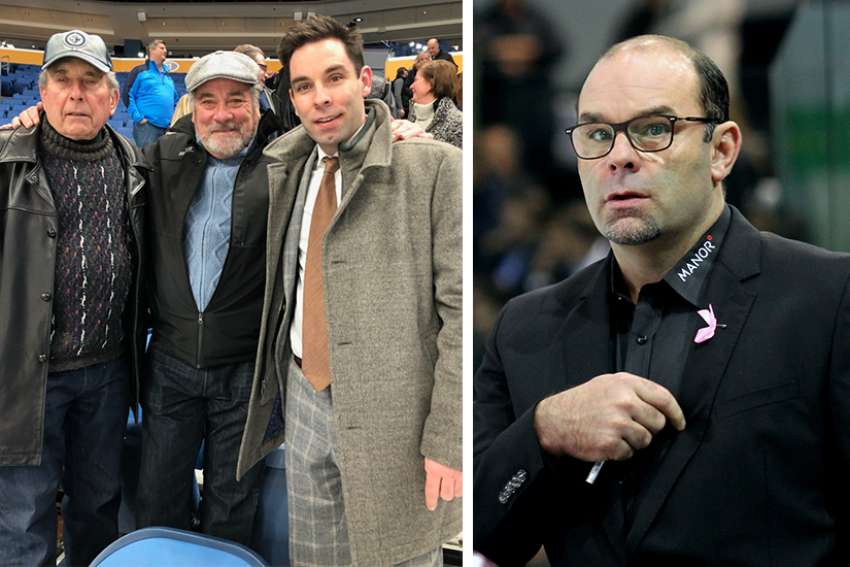 Their parents worked full-time but still manage to be present in their sons' athletic activities.
They set a great example," Jay said. None of our hockey upbringing would have been possible without both of our parents undying commitment to provide us with the opportunities we all had in the sport," added Craig.
"They sacrificed so much of their own lives to be able to provide us an opportunity to do something that they knew was so important to us. I know, we are all very grateful for that."
Jem Woodcroft was 69, when she died on April 4, 2016, in Scarborough, Ontario, after a two and a half year battle with cancer.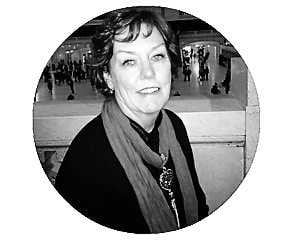 "Our parents taught us how important it is to build relationships in all aspects of our lives," he said. "The ability to relate and get your point of view across is a practice and learned skill. It was something that was made important in our lives at a very early age. I think understanding the people you deal with on a day-to-day basis are different.
They all have different points of view, they all have different starting points for reflection. Understanding that's the first step, finding ways to connect with them on common ground is the second step and the third step for me is to let the players know you care about them first."
Craig Woodcraft was the first of the Woodcroft boys who started playing hockey.
We all loved the game and everything about it," said Craig. "We were committed from as early an age as we can remeber. Hockey was our life, and we loved everything about it… The training, the practices, the successes the failures, this was all normal year-round routine in the Woodcroft household."

"Both Todd and Jay were dragged along to a lot of my hockey games and practices growing up," said Craig. "They had the opportunity to share in a lot of my successes as a player and the setbacks."
Jay Woodcroft Brothers
As previously noted Jay Woodcroft has two brothers Cray and Todd Woodcroft, both former hockey players and now hockey coaches.
Craig Woodcroft
5'11 Craig Woodcroft born on December 3, 1969, in Toronto, and played for Canada National Team and college hockey at Colgate University from 1987 to 1991.  The Chicago Blackhawks selected him with the 13th overall selection in the first round of the 1988 NHL draft.
From 1991 to 1993 played for the Indianapolis Ice, and during the 1993-94 season played for Prince Edward Island Senators; he later joined TuTo Hockey, Cleveland Lumberjacks and the British team, Manchester Storm from 1996 to 1998.
He later moved to Germany where he played for Kolner Haie (1998-99), Kassel Huskies (1999-2000), Frankfurt Lions (2000-01), Moskitos Essen (2001-02). He finished his playing career after a season with the Italian team, Milano and the Swedish team, Linköpings HC for the 2002-03 season.
After his retirement, Craig founded the Northern Edge Hockey Academy and was the president of hockey operations for the Sioux City Musketeers,  Skill Development Coach for the St. Louis Blues and director of the Nashville Predators' Rookie Development Camp.
Later on, served as associate coach for German DEL side Adler Mannheim in 2014, promoted to head coach two years later. In April 2016, served as head coach of HC Dinamo Minsk of the KHL.
He was named the new head coach of Genève-Servette HC in June 2017, named an assistant coach of Canada's men's team for the 2018 Winter Olympics in Pyeongchang, Korea in July 2017, while serving as head coach for  HC Dinamo Minsk. Since leaving Dinamo Minsk, Craig Woodcroft has been head coach of the Belarus national team.
Craig Woodcroft and his wife Kara have two children, Holden and Calla Woodcroft.
Todd Woodcroft
Todd Woodcroft the head coach for the University of Vermont men's ice hockey team was born on August 15, 1972, in Toronto. He played college hockey at McGill University in 1995 and the University of Toronto in 1996.
His coaching career started as a video coach for the Minnesota Wild in 2000, Team Canada in 2004, and the Washington Capitals during the 2005-06 season. Todd Woodcroft served as an assistant coach for the Belarussian National team in 2006 and was a scout for the Washington Capitals from 2006 to 2008 and the Minnesota Wild from 2008 to 09.
He was an assistant general manager for HC Dinamo Minsk and a scout for the Los Angeles Kings from 2009-13, the same role for the Calgary Flames (2013-16). From 2013 to 14 was an assistant head coach for the Belarussian Men's hockey team, the Swiss Team from 2014 to 15, Swedish National Team from 2016 to 17, and was named assistant HC for the Winnipeg Jets in 2016.
The University of Vermont announced they hired Todd Woodcroft as their new head coach on  April 15, 2020.
Jay Woodcroft played college hockey at the University of Alabama-Huntsville from 1996 to 2000. He later played for the Jackson Bandits and the Missouri River Otters from 2000 to 2001, and the UHL team the Flint Generals for the 2001-02 season.
From 2003 to 2004,  played for the Corpus Christy Rayz of the CHL; he finished his playing career with the German team, Stuttgart Wizard from 2004 to 2005.
Where was Jay Woodcroft born?
Jay Woodcroft the youngest son of Frank and Jem Woodcroft was born in Toronto, Ontario, Canada.
Jay Woodcroft age, Height and Weight
6'1 Jay Woodcroft was born on August 11, 1976, he weighs 87 kg.
Height 6'1 (185 cm)
Weight 87 kg. (192 lb)
DOB August 11, 1976
Hometown Toronto, Ontario, Canada.
Parents Jem and Frank Woodcroft
Siblings Craid and Todd Woodcroft
 Wife Jackie Woodcroft
 Children
Jay Woodcroft Coaching Career
2005-2008 was video coach for the Detroit Red Wings.
Won the 2008 Stanley Cup while he was with the Red Wings
2008-2015, served as an assistant coach for the San Jose Sharks
2015, was an assistant coach for Team Canada, that won a gold medal at the 2015 World Championship
From 2015 to 2018, was an assistant coach for the Edmonton Oilers.
Assistant Coach in 2016 for Team North America – World Cup.
2018-2022 was head coach for the Bakersfield Condors.
On February 10, 2022, was named head coach for the Edmonton Oilers.
Jay Woodcroft Wife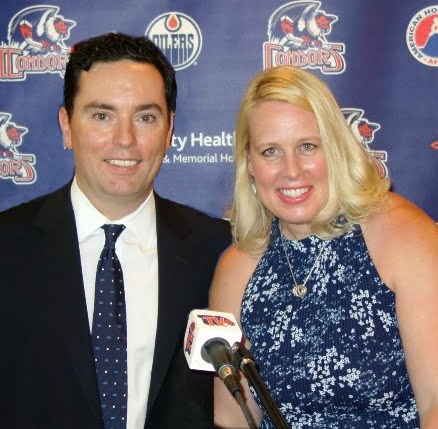 Jackie Woodcroft
Edmonton native, Jackie Woodcroft a former softball player, met her husband Jay while they both were NCAA scholarship athletes; they got married on August 24, 2007, and are the proud children of eight-year-old twin daughters Emma and Bryn.