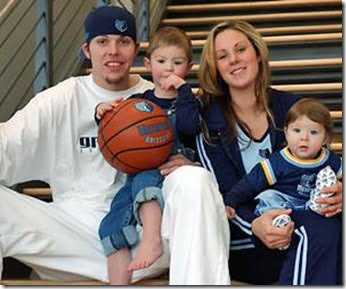 Mike Miller's wife Jennifer Miller (previously Jennifer or Jenni Keene) met the basketball star while attending the University of Florida, where she played volleyball.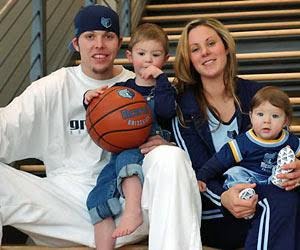 Jennifer Keene was born in Italy, after that lived in Georgia until she was 8 and finally moved west to Lodi, CA with her mom before attending the University of Florida for college (and to be closer to her dad). Jennifer's mom, who lived in Cali., wanted to confirm that her daughter would be able to call her at whatever time she wanted whilst absent at college in Florida. To make sure there was never anything to stop this, her mom bought an 800 number so that her daughter could get to her at any time for free.
Mike and Jennifer's first date was on Halloween his freshmen year. Fllowing dating all through college, they were married on July 5, 2004 at the Atlantis Resort in the Bahamas. Their first son, Mason Ace Miller, was born on October 22, 2002 and was almost immediately followed by their second son, Mavrick Mayz Miller, on July 2, 2004. Mike Miller's daughter, Jaelyn Miller, was born on May 20, 2011. There were complications throughout childbirth that resulted in Mike Miller's daughter Jaelyn spending the last week in the ICU fighting an unrevealed sickness. Miller wore pink shoelaces in Jaelyn's honor. Miller spoke about the circumstances, saying:
She's still in ICU. She had some complications. But it's going to be all right. She's a fighter. She's the most important thing I'm thinking about right now.
Mike Miller and his wife Jennifer are very kind with their money, donating over $1.5 million to the Sanford Children's Hospital in Sioux Falls, South Dakota, the Make-A-Wish Organization in both Tennessee and South Dakota as well as the Houston High School Athletic Program in Collierville, TN (where Jen was head coach at the time).
Back in the 97, this is how Jenni looked like:
Alphabetical Roster
23
Nina Foster
20
Jerilyn Hattendorf
5
Jeni Jones
14
Jenni Keene
16
Jenny Manz
7
Shannon Mason
3
Malaika Naulls
9
Sandra Reboucas
12
Claire Roach
10
Aurymar Rodriguez
18
Jennifer Sanchez
2
Nikki Shade
25
Janie Velentzas
13
Heather Wright
Position Key:
MB = middle blocker
OH = outside hitter
S = setter
RS = right side hitter
Read more about this hot couple here.