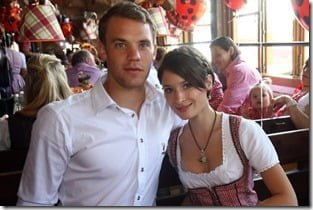 Sadly for the rest of us Bayern Munich's number one goalkeeper Manuel Neuer is taken! By his gorgeous girlfriend Kathrin, and actually they have been an item fro quite some time now. Could it be we'll hear wedding bells this years???
I mean after all 27 year old Manuel known for his reflexes, excellent shot stopping abilities and distribution of the ball is a total catch for the ladies he is young and a pro at what he does. Pure German quality product. But not being jealous at all we can say the same of his hot German girl.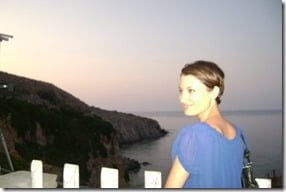 There are photos of Manuel Neuer and his girlfriend and rumors are that they have been together since 2009. Her name, Kathrin Glich,, she is a model, of course she is a model I mean just take a look at him, they deserve each other! They look good together wouldn't you agree??
Kathrin promoted Ferrero's 'Fan Connection' in 'BILD am SONNTAG' as the "girlfriend of Manuel Neuer" And although the player does not like it when his beautiful girl shows off in the public eye it seems she just doesn't pay any attention to him since she does it anyway. Is it maybe that he is jealous? Does he know she is a model? Or is it just a German thing?
The couple is actually very private for the most part, I going out in public and making headlines in the tabloids is not their thing. Well I think if we want to catch her we might as well watch one of his games since she usually is around. I wouldn't leave him alone if I was her either!
Here some more pictures of them.