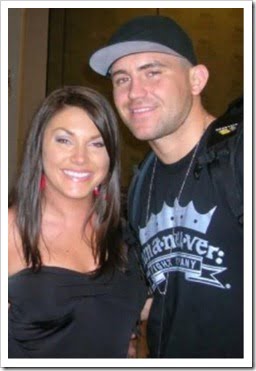 Alan Belcher: Michael Bisping's lack of trash talk shows how much I'm in his head… these are the words of the man who has become the fav for this fight. We expect his wife Ashlee Belcher will definitely post something on you tube as she usually does…
Ashley Belcher is Alan's wife. She married Alan five years ago. Belcher and his wife Ashlee had their first child, a daughter named Ava Elize on January 18, 2010. They live in Imboden, Arkansas. We know about her interests. For instance, she loves wearing scarves and her fashion icon is America's sweetheart, Sandra Bullock. She also likes fancy watches and b/w photography. Like all women in their 30's, she likes designing DIY for home interiors and exteriors.
She loves traveling and raising her kids with spiritual teachings. She still plays with her daughter with the balloon, trying not to touch the floor…Who doesn't enjoy that still? She also plans ahead for the vacations she with enjoy together with her family. She is addicted to pastry and keeps all neat and organized.
Who's not? When she organizes parties for her kids, she wants to celebrate it big. Memorable parties. She wants to stay home and workout, her motto: 'If you still look cute at the end of your workout, you didn't train hard.' Her philosophy is: 'Someone who hates you normally hates you for one of three reasons.
They either see you as a threat. They hate themselves. Or they want to be you.' She is fan of Madonna. She organizes bridal showers too. We bet that she had a lead role for her wedding day, she looked stunning on that dress and the party was also lovely.
You can visit Ashlee Belcher on Twitter here.