Kayla Slossar
Kayla Slossar is the hot girlfriend of Ryan Mathews, well probably ex-girlfriend by now since she caught him cheating on her. Matthews the quarterback for the Philadelphia Eagles who also played college football at Fresno State.
Kayla is no longer on instagram sadly instagram user @bunnikay deleted her account, but not before she posted a photo of her boyfriend NFl player Ryan Mathews cheating on her with another girl.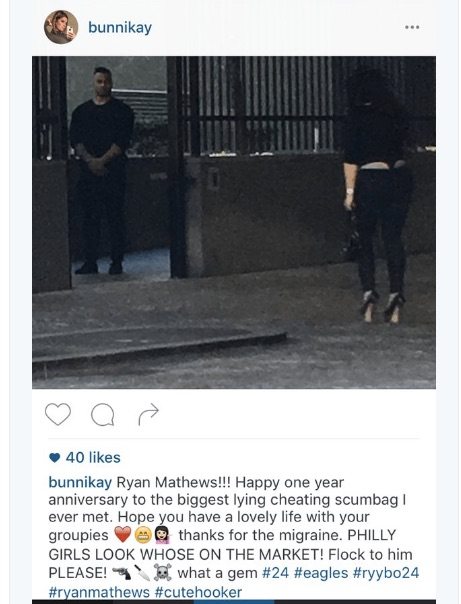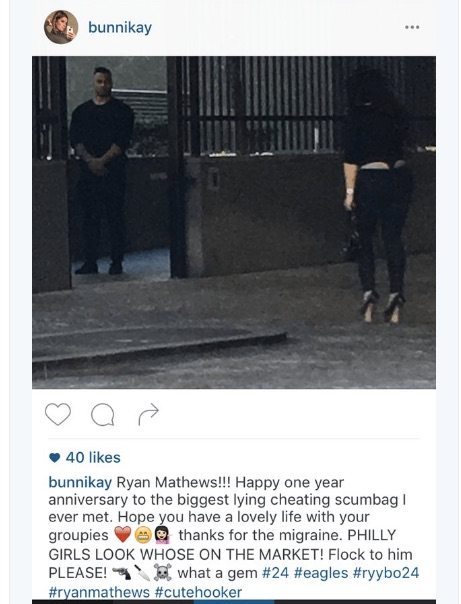 Kayla Slossar's NFL Stud Ryan was born October 10, 1987 in Riverside, California, Ryan was raised by her mom Tricia Mathews. His dad left them before he was born and he has only seen a few times. He attended attended West High School in Bakersfield, California, where he was a member of the track and football teams, after high school he attended at California State University, Fresno. Matthews forgo his senior season and entered the Draft.
He was selected by the San Diego Charges with the 12th overall pick i(1st round) in the 2010 NFL Draft; signed a five-year, $26.65 million contract with the Chargers in August 1, 2010, he finished with 1,091 rushing yards and six touchdowns and made the Pro Bowl his rookie year. A series of injuries including both broken clavicles, an injured ankle and a sprained MCL put him on the season-ending injured reserve in the season that followed and by the end of the 2014. He was out of San Diego. He signed a three-year deal with the Philadelphia Eagles in March, 2015. Enough about him, ready to meet the girl who outed Ryan on Instagram?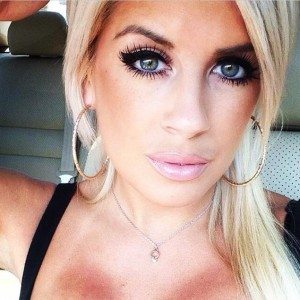 25-year-old Kayla Slossar, aka bunnikay was born in Cherry hill, New Jersey to Michael and Sandra Slossar (nee. Gordon). She graduated from Cherry Hill High School in 2008, she Studied Fashion Design & Marketing at The Art Institute of Philadelphia and works at Center for Vein Restoration as a regional community outreach coordinator.
You can find Kayla Slossar on Twitter here