Laura Darea
Laura Darea is the soccer Wag of Spanish footballer, Manuel Agudo Durán, better known as Nolito. She and her hubby who is currently a Celta Vigo striker, are the proud parents of three daughters.
Her husband was born October 1986 in Sanlúcar de Barrameda, Spain. The 5 ft 9 in player began his career at lower-league clubs he signed for Barcelona in 2008, playing predominantly with its reserves. Three years later, he moved to Benfica and was loaned back to Spain with Granada before joining Celta in 2013.
Nolito made his debut for the Spanish national team in November 2014, being selected for the nation's UEFA Euro 2016 squad.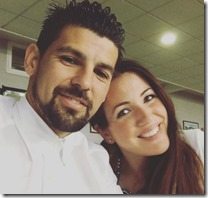 Laura Dare told sport.es she fell for the player when they were both teenagers, long story short, they had been in each others life for many years, way before he became Nolito.
We dare to say hot Laura Darea did some modeling, she definitely enjoys posing for pictures while looking hot.
Laura Darea is the mother of the couple's three children. The couple welcomed daughter Lola, born in 2011. Laura Darea and her hubby recently welcomed the arrival of twin daughters born this January. The couple named the twin girls, Alegria and Lara.
It has been reported her husband has attracted the interest from both the Gunners and Barcelona, but Laura Darea apparently has the last word when it comes to her husband's next move. According to reports, his arrival in the Premier League is certainly not the preferred choice of his wife Laura Darea however. At a Spanish team's press-conference, teammate Thiago Alcantara stated that; "If he goes to England his wife will be angry". If it's a straight choice between England and Spain, she is in no doubt that the couple will be better off staying in their homeland.
Can you blame her? The gorgeous mom of three obviously keeps busy with the new addition to the family and also find time to keep active on social media by posting adorable snaps of her and her man goofing around with their daughters.