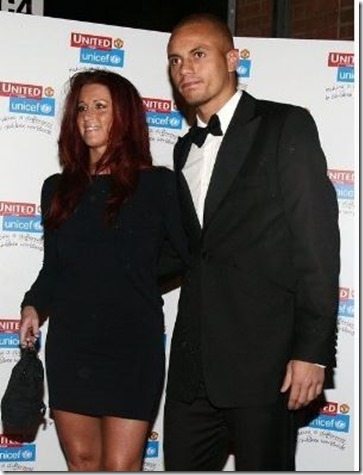 Meet lovely Leanne Wassell, the wife of five-years of English footballer, currently playing for Sunderland, Wes Brown.
Though Wes has spent 14 seasons with Man U, he has been able to stay out of the tabloids and dodge the usual affair claims that hound most married footballers. Leanne's man was one of the longest serving members at Manchester United having appeared 226 for the Red Devils.
Born Leanne Elizabeth, met her man several years ago when Leanne moved from her family home in Cumbria to Manchester to train as a beautician. The couple were married in the summer of 2009 in a wedding that was described by numerous onlookers as 'Real Footballers' Wives stuff' All the rest of the WAG community were there including Wayne Rooney and the ever delightful Coleen.
They tied the knot at a lavish event at Peckforton Castle in Cheshire. During the ceremony Wes arranged for the new must have assessory – his rings to be delivered by an owl. She now goes by Leanne Brown.
The 36-year-old mom of three, does her bit for charity events involving the club and outside of Old Trafford, mainly in fashion.
Leanne who clearly has not used her beautician training ever runs a blog instead, you can check it out on myfamilymylovemylife.com. As you can imagine by the title, she writes about common family stuff and her daily ventures like her most recent post "Lovely Lunch with my Ladies"
Even when her hubby makes a lot of money –we are talking about a seven figure salary –the couple or more directly Leanne has been appointed as being kind of cheap! According to a report from the Daily Mail, she recently paid a visit to Legoland with her hubby and daughters and she collected tokens from cereal packets to gain free entry.
The blonde wrote on Twitter:  'We made sure we stopped off at tesco and bought 3 boxes of cereal to get the buy one get one free offer legoland saving £138! A bargain.'
Maybe they spend too much on their lavish nuptials?
Leanne along with her hubby are the proud parents to their three children, three daughters, Halle, Lilia and Lola. The couple is happily married and lives in $4 million Alderley Edge, Cheshire, mansion with their adorable daughters.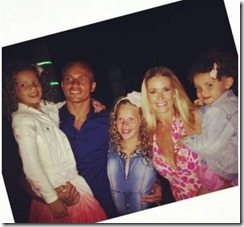 Following with our story, Leanne was not at all impressed with the Windsor-based resort and took to her blog saying
'Legoland was not so great. Having never been there before, I was quite looking forward to it but was shocked to find out the price of entry per person.
Wes Brown signed for Sunderland in July 2011 after spending nearly 15 years at Manchester United. He made his debut for the club in a 1-1 draw on the opening day of the 2011-12 season. His one goal to date for SAFC came as the winner in the December 2011 3-2 win over Queens Park Rangers.
Would you support Leanne's practices? Find the lovely gal on Twitter here.