Meet Lindsay Wideman
Lindsay Wideman is the lovely wife of NHL player, Canadian Dennis Wideman.
Dennis Earl Wideman was born March 20, 1983 in Kitchener, ON, CAN. He was drafted in the 2002 NHL Entry Draft, by the Buffalo Sabres. The 241st overall pick plays defense and has played for several NHL teams including the Washington Capitals, the Florida Panthers, the Boston Bruins, the St. Louis Blues and the Calgary Flames.
After the 2002 dratf he then played two more seasons with the London Knightsin the OHL before spending one year in the AHL with Worcester and finally making an NHL debut with the St. Louis Blues in 2005. Played two seasons with the Blues before getting traded to Boston. Played 4 years in Boston including 3 playoff runs.
Then traded to Florida in exchange for Nathan Horton and Gregory Campbell. Played with Florida until the trade deadline and was then picked u by the Washington Capitals. In 2012 he signed a five-year, $26.25 million contract with the Flames.
According to a player bio, Dennis Wideman has played in all eleven postseason games for the Flames and led the team in seven assists. He Led all Flames defensemen and set career highs in points (56), goals (15), and assists (41) in the regular season and finished fourth, tied for sixth, and tied for eighth in those categories among NHL blueliners. Wideman was second on the Flames with 15 multi-point games and had the second and third multi-goal games of his career. He recorded three straight multi-point games and has played over 700th career games.
The defenseman has also served as an alternate captain for the Calgary Flames.
Though professional hockey has proven to be an aggressive and sometimes dangerous game and all defenseman certainly know it well, Dennis sure has a more relaxed side that his wife knows well.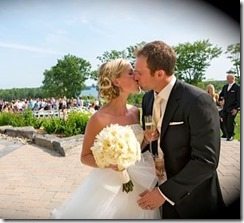 Lindsay Wideman was born Lindsay McDonald. She and her husband were in a long time relationship before tying the knot.The couple got engaged in 2011 while he played for the Washington Capitals. According to her Facebook, Lindsay Wideman is originally from Owen Sound, Ontario. She and her hubby reside in Calgary, Alberta.
Lindsay Wideman and Dennis became husband and wife on July 6, 2012, only five-days after signing with the Flames.
Lindsay Wideman is certainly not shy. The blonde frequently participates in the Flames community after her husband was traded to the team. The NHL wag keeps busy while assisting to charity events while company to her hubby.
In late 2015, she and her man announced they had partnered with Stay Smart Stay Safe to work with the Flames on their bullying prevention programs. Through visits to Calgary area schools, Wideman will speak to students on promoting healthy relationships and creating positive social environments in school and within the community.
You can find Lindsay Wideman on Instagram here.