Ludivine Payet
Ludivine Payet is the hot WAG tied down to French midfielder, Dimitri Payet. Her West Ham star husband sealed a 2-1 victory over Romania, leading the race for the Golden Shoe after his fantastic performance.
Ludivine's husband was born on March 29, 1987 in the island of Réunion in a city called Saint-Pierre. Before Payet became known for his technique and dribbling skills, he came up through the Saint-Philippe, Saint-Pierroise, Le Havre and AS Excelsior youth programs. He made his debut for Nantes in his senior career in 2005.
He played for Saint-Étienne and Lille between 2007 and 2013. While playing for Saint-Étienne during the 2010-2011 season, he was named the UNFP Player of the Month award for September. On 27 June 2013, Marseille signed Payet for a fee in the region of €11 million. He had a more successful second and final season with the team.
He began playing for the English club West Ham United in 2015 after playing for Marseille between 2013 and 2015. Last June Payet signed a £10.7million move to West Ham signing a five-year deal.
In February 2016 it was reported he committed his future to West Ham in a $125K a week for five years, the most lucrative in the club's history.
The offer comprises of a £68,000-a-week basic wage, £25,000-a-week appearance fee, £1m signing-on fee, plus other bonuses, taking the total to around £125,000.
Payet has enjoyed an excellent first season in English football, scoring six goals in 22 appearances to help the Hammers to sixth in the Premier League. His performances have caught the eye of cash-rich Shanghai Shengua, who offered Payet a deal worth £135,000-per-week.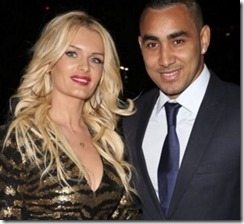 Ludivine Payet is clearly her husband's number one fan. She has been pictured a number of times attending her man's games. She has also been seen proudly standing next tom him at red carpet events.
Ludivina Payet is also the mother of the couple's three sons, six-year-old Noa, two-year-old Milan and one-year-old Pharell.
The blonde was cheering for her man in the Euro 2016 opener along with her young boy. Ludivine Payet, obviously emotional, screamed her man's name after his final goal. The family celebrated the pivotal moment.
Not much more is known about lovely Mrs. Payet, she and her man both like to keep their private lives out of the spotlight. Ludivine Payet seems to get along with the other Wags, she is very close to another WAG with the same name, Ludivine Sagna.