Maggie Grise
Maggie Grise is a NBA Wag that many of you know very little about, she was known as the interior designer dating NBA commissioner Adam Silver, but they are now husband and wife. Get ready to meet the new Mrs. Maggie Grise Silver or is it just Mrs. Maggie Silver?












Maggie Grise's NBA stud, holds one of the most powerful positions in sports. Adam Silver has been  commissioner of the NBA since 2014, before that he was Judge Kimba Wood's law clerk. Adam Silver was born on April 25, 1962 in New York, he was born to Jewish parents and became a huge Knicks fan. Commissioner Silver attended Rye High School, graduated in 1984 from Duke University and in 1988 got his law degree from the University of Chicago.
Maggie Grise grew up in Stamford, the couple was introduced by a mutual friend and were married in a hotel in New York City in 2015. Prior to their nuptials, he told TODAY's Matt Lauer he and his then fiancee, "would love to have a child." Any minute now!
Not much is known about the lovely blonde but they have been pictured together. Like the time they attended a dinner party hosted by the owners of the New Orleans Pelicans during the All-Star break.
She is credited for having "spruced up" with new lighting, paint, carpeting and furniture, New York's Optometrist, Gary Tracy. Maggie Grise is the sister of Maureen Grise. His sister is married to actor, Tom Cavanagh, making him Maggie's brother in law.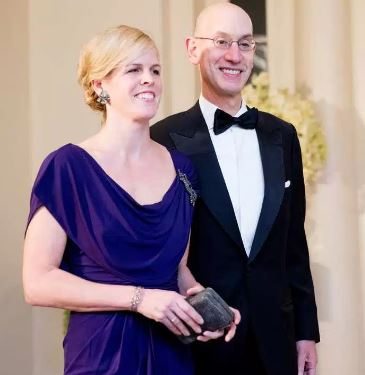 Following her hubby's position as Law Clerk to Judge Kimba Wood at the Federal District Court in New York City, Silver also served as a Litigation Associate at the New York law firm of Cravath, Swaine & Moore.
His tenure in the NBA began back in 1992 when Mr. Silver joined NBA in 1992 as Special Assistant to the Commissioner. He served as a Chief of Staff of NBA since 1993 and served as its Senior Vice President and Chief Operating Officer since 1995.
Mr. Silver served as Chief Operating Officer of NBA China. He served as the President and Chief Operating Officer of NBA Entertainment Inc. since 1997 and its Senior Vice President. He has been a Deputy Commissioner and the Chief Operating Officer of National Basketball Association since July 2006. He also serves as a Director of NYC2012, Inc. and NBA China.
As an interesting fact, Silver's father, Edward, worked at Proskauer Rose LLP, the firm that –his predecessor –David Stern joined in the early 1970s. The NBA said Stern and the younger Silver did not meet before 1988, when they shook hands briefly at the NBA All-Star Game. They had their first real conversation in 1992 when Silver interviewed for the job.
Silver might have not played professionally or coached basketball at any significant level, but his love for the sport he has served for over two decades show his passion for it. Some agree with his decisions some, don't but in Maggie Grise he will surely have someone on his side.
Silver is active on Instagram but he rarely uploads photos of him or his wife, Maggie Grise.