𝙹𝙾𝚁𝙳𝚈𝙽 𝙷𝚄𝙸𝚃𝙴𝙼𝙰
Meet pretty Jordyn Huitema! She is the beautiful and talented girlfriend of soccer player Alphonso Davies. Her beau is the Canadian winger for German soccer club Bayern Munich, who fled from Ghana during the Civil War and is now living the best days of his life as one of the youngest and most promising soccer players in the world.
Davies was five when his Liberian parents Victoria and Debeah Davies moved to Edmonton, Canada where Alphonso attended St. Nicholas Catholic Junior High.
He started his career with Free Footie in Edmonton; subsequently joined Whitecaps FC Residency at the age of 14 and Whitecaps FC 2 a year later.
He agreed to a $22 million contract with Bayern Munich on July 25, 2018; he made his Bundesliga debut against Borussia Monchengladbach on January 12, 2019.
Having said that, let us tell you about Alphonse Davies' girlfriend of three years, Jordyn Huitema.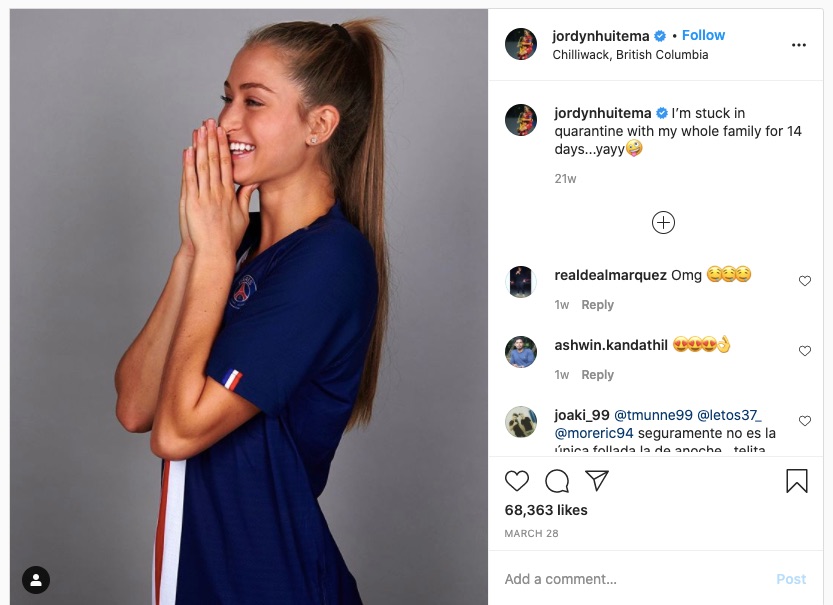 Perhaps some of you know already that she is too a soccer player, ironically she is a member of the feminine league team Paris Saint Germain (Alphonso and Bayern Munich faced PSG at the 2020 Champions League Final in Portugal).
Jordyn Pamela was born on May 8, 2001, in Chilliwack, British Columbia. Sheis one of three children born to Roger and Julie Huitema, also proud parents of sons Trent and Brody Huitema.
Her dad played football, rugby and soccer while her mom was a swimmer. Her brother Trent plays hockey for Humbolt Broncos of the Saskatchewan Junior Hockey League; Brody Huitema is a former member of Duke University's soccer team where he was also a captain at, is nowadays a sales manager for Vivint Smart Home in British Columbia.
5'11" Jordyn Huitemam started playing soccer at the age of four with Chilliwack, FC while she attended Rosedale Middle School. In 2012, joined Surrey United and Vancouver Whitecaps in 2015.
Jordyn announced she would skip college after she signed a four-year deal with Paris Saint Germain on May 17, 2019.
In addition to that, Huitema represented Canada with the Canada Under-15 team in 2014, Canada Under-17 in 2016, and with the senior team in 2017.
Furthermore, you can find this stunning gal on Instagram here