Jackson Wade
Jackson Wade is the lucky fella currently dating Brit tennis player, Johanna Konta. Wade's gal made history in 2016, becoming the first female British singles player to be ranked in the Top 25 in almost 30-years.
She has won three singles titles on the WTA tour, as well as 11 singles and four doubles titles on the ITF circuit in her career.
Konta was born May 17, 1991, in Sydney to Hungarian parents Gabor and Gabriella, who eventually immigrated to Australia.
Johanna started playing tennis when she was eight years old and won her first professional tournament when she was 16.
She represented Australia from 2004 to 2012, after becoming a UK citizen. She changed her allegiance citing the fact that she largely grew up in the country.
Konta now has Hungarian, Australian and British passports. She went initially to the Sanchez Casal academy in Barcelona before her parents decided to settle in Britain in 2005 for the sake of her tennis career. In the UK she trains at the National Tennis Centre in Roehampton.
Konta defeated no other than Venus Williams, in straight sets at the 2016 Australian Open. She also reached the top 100 doubles rankings that same year.
Jackson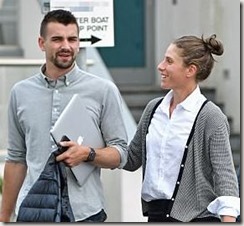 The right-handed 26-year-old player is currently in a swirling romance with 24-year-old photographer Jackson Wade. The couple, first spotted in June but have been dating since she won the Miami Open in the spring.
According to his LinkedIn, Jackson Wade is listed as the manager of video and photography at the Lawn Tennis Association since May last year.
Wade who hails from Newton Aycliffe in County Durham, holds a 1st class degree in digital filmmaking from the SAE Institute in Oxford.
He also attended Greenfield School and Community Arts College –where his activities included football, athletics, and tennis.
Wade also runs his own company, Erimus Productions, and 90SecondStory –which he started in 2014. 90SecondStory™ is a video advertising agency based in Boho Four, Middlesbrough.
He serves as the company director for Erimus Media Group –which he started in 2012.
Jackson Wade has experience being an Editor, Colourist, DOP, cam op, creative, writer, photographer, and producer. You can also check him out on his website.
Find Jackson Wade on Twitter here.