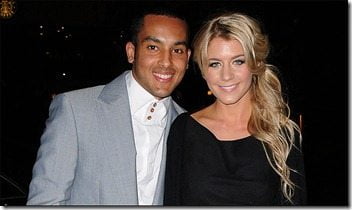 24-year-old Arsenal star Theo Walcott married his childhood sweetheart Melanie Slade at a fairytale ceremony. The reception was held at the Italian castle Castello Di Vincigliata in Florence.
Melanie and Theo asked guests not to bring gifts but instead to donate to the Willow Foundation, set up by Arsenal legend Bob Wilson, and to the Macmillan Cancer Support, after Melanie's sister Sarah was diagnosed with kidney cancer at 16.
Among the wedding guests were several of his team-mates including Kieran Gibbs, Laurent Koscielny, Aaron Ramsey and Thomas Vermaelen.
The groom said to Hello! magazine:
"It's fantastic to be able to finally call Melanie my wife. Now we're excited to see what the future holds for us… I don't think marriage will change our relationship – I hope not anyway, as it was already everything I could have wanted."
23-year-old Melanie Slade, now named Melanie Slade- Walcott, met the footballer in 2004 outside the shop where she worked at WestQuay shopping centre in Southampton, where his career began. A friend said:
"They fell in love before all the fame, and that has laid a strong foundation."
Melanie Slade was under the UK spotlight and quickly became a tabloid newspaper favorite after her boyfriend was elected for the England 2006 FIFA World Cup. In May 2006, UK Tabloid newspaper offered Slade £160,000 for a topless photo shoot! Melanie accepted the offer and appeared topless in The Sun on May 19, 2006, just covering her breasts with her hands. She is a hottie!
Melanie Slade loves adventure and one of her hobbies is climbing! Besides, she is becoming a best-selling model posing for FHM magazine and was also appointed as the ambassador of Sally Hansen products. Melanie supported the 2006 Race for Life organized by Cancer Research UK.
Melanie and her now-husband are seen as one of football's most solid couples.