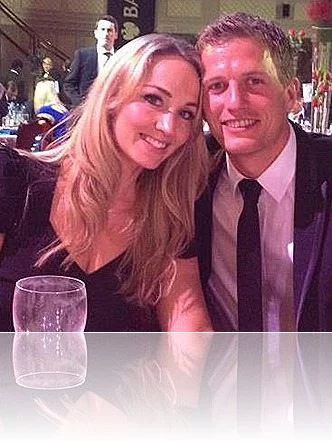 Rovers player Lee Mansell pulled a bold move when he  decided to kiss Gateshead player J.J O'Donnell, now neither Mansell or O'Donnell is gay, J.J has a girlfriend and Lee is married to his lovely wife Michelle Mansell, about whom we are going to talk to you about.
Bristol Rovers' midfielder Lee Mansell has been playing with them since June, 2014, before that he played with Torquay United where he was also captain, Mansell also played with Oxford United and Luton Town.
Besides playing soccer Lee is a Herbalife distributor, but his most important role is to be the doting father of his two beautiful girls and the caring, loving husband of his wife Michelle.
30-year-old Michelle and Lee are expecting their third child together, they already have two girls Alyssa is 7 and Eden is 4. Mrs. Mansell Chambers from Perth, Australia, attended Woodridge High School and is a HD Brow technician.
You can follow Michelle Mansell on Twitter here.