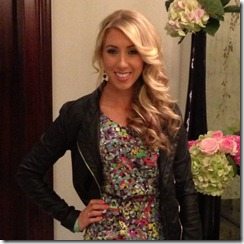 The facts: Stoke City goalkeeper Asmir Begovic may be the sports star but he credits his wife Nicolle Begovic with helping his success on the pitch.
The Stoke City goalkeeper and his wife were born thousands of miles apart: Asmir in Trebinje, in what was then Yugoslavia, and Nicolle in the small 2,000-strong town of Mountain City, Tennessee. How on earth did they meet?!
Nicolle says,
Not to sound morbid about it, but if Asmir's family hadn't left Bosnia, they might have never made it out alive.
Her parents separated when she was younger and she came to England, aged 10, with her mum, Mary, and her younger brother, Chris.
She explains,
I've got a British-born mother and an American dad.

We moved to Essex – so I do know about The Only Way Is Essex but no I don't watch it – and then I moved to Southampton in 2000 which is where I went to secondary school and university.
Nicolle trained to be an accountant and was studying at Southampton Solent University when she met future husband Asmir. So here was where all happened!
Petite and beautiful Nicolle was out with friends when she got caught up in the middle of a scuffle. Asmir, who stands at 6ft 5ins, came to her rescue. Ohhhh! So fairy tale-ish…
She says:
When you think about it, we should never have met.

I do think fate has a part to play. We should never have been where we were.

We were out on respective girls and boys nights out in a really shabby club and a bar fight broke out.

Asmir came to my rescue and swiped me out of the way.
We heard each other's accents – his was Canadian and mine was American, and it was so refreshing to meet someone different.

We never looked back. We literally just met and clicked.
Nicolle is such a funny, warm, bright and sweet lady that we have no doubts how did she melt her hubby's heart.
Follow her on Twitter here.