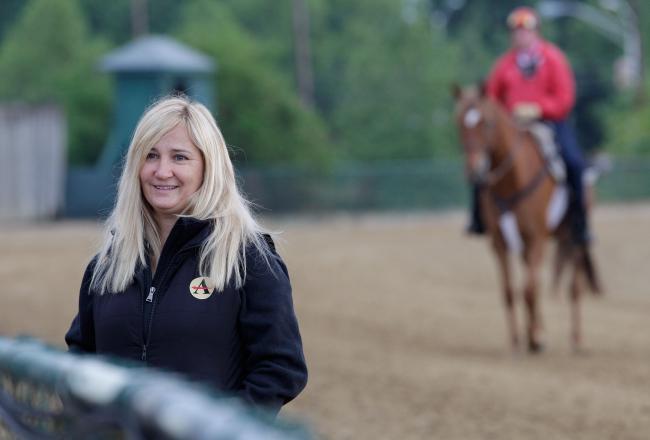 The story: Mucho Macho Man galloped 1 1/2 miles and then schooled in the paddock, all product of the guidance of its trainer Kathy Ritvo.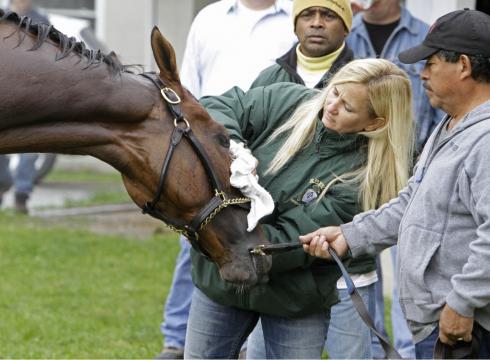 Finn Green, stable manager for owner Reeves Thoroughbred Racing, said,
Kathy's done a great job. She's a good horsewoman, a very, very good horsewoman. She pays attention to detail. She knows her horses. She's on his legs every day. She put the bandages on his legs this morning. I think she's one of the most under-rated trainers around.
Women all over the world have been so overwhelmed after the 30th Breeders' Cup Classic on Saturday evening.
After Mucho Macho Man's photo-finish conquest over Will Take Charge, a crying Ritvo tracked down Stevens on horseback and they held hands for a short moment, acknowledging the grandeur of the moment.
Five years ago, Ritvo was basicalley on her deathbed. She was diagnosed with cardiomyopathy, a hereditary heart condition that took the lives of her dad and brother. With the iumph Saturday, Mucho Macho Man won a $5 million purse just days before the five-year anniversary of Ritvo's heart transplant on Nov. 13.
Ritvo will always be acknowledged as a pioneer.
Kathy's Bio
She was born on February 28, 1969.  Ritvo was born into a family that was involved in horse racing, and she was raised in Braintree, MS. Her father, Peter Petro, owned race horses. Her three brothers also established horse racing careers, one became a race horse trainer and the other two became jockeys. She became a licensed trainer when she was 18. She worked for her dad and met Tim Ritvo when they both worked at Suffolk Downs. They got married in 1990 and then moved to Florida. The couple have two children, Dominique, born in 1992, and Michael, born in 1994.All along 1990 and 1998, she trained 150 winning horses, including stakes winners.
Her heart condition was formally diagnosed in January, 2001. She began taking medication and was able to keep on training on a limited basis fr0m 2003 to 2005. However, her condition deteriorated by the summer of 2008.She received a heart transplant in November, 2008 at the age of 39.She had been on a waiting list for seven months before an organ became handy,had been in the hospital for most of the previous six months, and at the time of her surgery, her doctors assessed her as having at most two weeks to live. The surgery lasted 17 hours. She shows no signs of organ rejection, keeping to a regimen of over 30 pills a day. Her doctors told her not to go back to work due to dirt and dust that is part of the environment
On her own words:
Somebody gave me a gift…I want to live every day. I want to appreciate every day.
I never thought I'd be able to have a normal life again even if I did survive. But here I am, working at the track every day almost as if nothing ever happened."
See more on her stats here.