Meet Nikki Hairrell
Gorgeous Nikki Hairrell is a model and a hot NFL wife. Nikki Hairrell now goes by Nikki Colquitt, that's because she's been married to NFL punter, Britton Colquitt for a few years now.
Her hubby was born March 20, 1985 in Knoxville, Tennessee. Nikki's man comes from a family with deep NFL ties. He is the son of former NFL punter Craig Colquitt, nephew of former NFL punter Jimmy Colquitt, and brother of current NFL punter Dustin Colquitt of the Kansas City Chiefs.
While studying at Bearden High School, Britton Colquitt played both football and soccer. Then, in college, he joined the Tennessee Volunteers and for three seasons, he was a first-team punter.
Britton got his start in the NFL with Denver as a college free agent on April 27, 2009. He Averaged 42.6 yards on 209 career punts at the University of Tennessee, where he was a two-time All-Southeastern Conference selection and also handled kickoff duties.
As a rookie in 2009,he completed brief stints on the Broncos' active roster and Miami's practice squad. Britton punted five times for 281 yards at Arizona (12/12/10) to mark the highest single-game average (56.2) for a road game in franchise history.
In October 2011, he became just the third player in NFL history to post a 50-yard gross average and a 43-yard net average during a single month (min. 20 att.) when he averaged 50.3 gross yards and 43.5 net yards per punt. He also established Broncos single-season records in both gross (47.4) and net (40.2) punting average in 2011.
He broke his own franchise record and ranked third in the NFL with a 42.1 net punting average in 2012 while finishing second in the league holding opponents to a 6.0-yard return average. The seventh-year punter who has played 80 regular-season games and seven postseason contests for the Broncos and is the franchise career leader in gross (45.5) and net (39.0) punting average.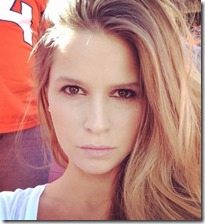 But not everything has always been that easy for the 6 ft 3 in player. While playing at Tennessee, controversies surrounded him during his stay with the team which led to the stripping off of his scholarship after being arrested on charges of DUI. That was over a decade ago, and it appears Britton learned the lesson. When you're good, good things come along, that's what happened when in 2011 he married Nikki.
Nikki Hairrell became officially Mrs. Colquitt on March 05, 2011. The couple tied the knot in Englewood, CO.
Nikki Hairrell met her man while in college. Info online says they were introduced by mutual friends and after a game of truth and dare, things got interesting. Let's just say it sounds like Nikki Hairrell turned this bad boy into a good one!
Nikki Hairrell did some modeling in the past and was even signed to agency Donna Baldwin. However it appeears she trade the modeling world for the wife and mother role. The couple welcomed son Nash Colquitt in April 2012. Nikki Hairrell and Britton became parents of an adorable baby girl, Everly Colquitt in January 2016.