Pilar Rubio
Either central defender or right back pro footballer Sergio Ramos' girlfriend is super hot! Pilar Rubio might be a few years older than her beau, but they make one good looking couple! Ramos, a defender and captain for Real Madrid and her gorgeous Spanish girlfriend, have been the subject of persistent breakup rumors! But Ramos used his Twitter account to shush all those rumors when he posted a picture of not only his girlfriend but the couple posing with members of his family!
That means that she has the family stamp approval and it might be getting serious soon! You can see the picture below.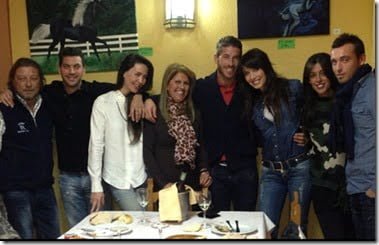 The tweet read:
Family picture and now waiting for the Magi… May all your dreams come true…! @Carlos_Muela… @PilarRubio_
He used his account earlier this year to share the unique and intimate family event to share with followers a photo of himself with his family and cougar girlfriend; she is Pilar Rubio. So what do you think reconciliation or there never was a problem in cloud nine??
Pilar!!
Pilar who recently turn 35 was born March 17, 1978; she is eight years his senior making her a smoking hot cougar!
Pilar Rubio Fernandez who is originally from Torrejon de Ardoz, Madrid, Spain is a well known in her hometown Spain. She is a Spanish reporter and T.V presenter; Pilar first gained notoriety for covering events for the program "Se lo que hiciste" (I know what you did) for the television network La Sexta.
Ms. Rubio, began to study Economics, although she did not finish the degree. She was born to appear on the public scene transitioning from reporter to model and actress! Has modeled for several men's magazines, and appeared in the movies Isi & Disi, alto voltaje and Carlitos y el campo de los sueños, also appearing in two short films: Merry Christmas of Fran Casanova and Cuestión de química of Juan Moya. In television, she has appeared in commercials.
She won the award of best television reporter with Premio Joven 2007, and in 2008 and 2009 she was selected as the sexiest women by the Spanish edition of the FHM magazine which is not a big shock, she is gorgeous. Most recently this talented woman has been tapping into designing!
Pilar designs the most stunning flamenco dresses, or trajes, as they are known in Spain, and she also has a blog where she talks about her designs and the latest fashion.
Wondering how they met? Well is funny actually, brave boy Ramos became intrigued by her and managed to get her digits and started talking and exchanging text messages before even meeting in person! That's a guy who goes after what he wants on the field and off! Then fireworks happened on the last Euro cope where she was covering the event, and he was participating as a player for La Roja.
Nowadays, the power couple is the proud parents of two adorable sons; Sergio born on May 6, 2014, and Marco born on November 14, 2015.
You can follow her on Twitter here. Visit her website here. Find her on Facebook here.