Ragnheidur Theodorsdottir
This lovely girl is Ragnheidur Theodorsdottir; she is the stunning wag with Icelandic soccer star, Ragnar Sigurdsson. Her 30-year-old boyfriend currently plays for FC Krasnodar in the Russian Premier League and for the Iceland national team.
Ragnheidur's guy was born Ragnar Sigurðsson on June 18, 1,986 in Iceland. He started out as a midfielder at Reykjavik-based Fylkir. His technical skills are abundant and he scored four goals for Iceland at youth level; however, he transitioned into a center-back at the age of 20.
But you already knew that ready to meet the missus?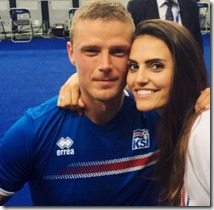 Ragnheidur Theodorsdottir is also an Iceland native, she was born June 14, 1988, in Reykjavik, Iceland. Don't let her pretty face fool you; Ragnheidur Theodorsdottir definitely knows a thing or two about competitive sports.
The Icelandic beauty is actually a former college basketball player. Moreover, played for the Icelandic athletic club, Haukar. Back in 2005/2006, she played with her team in the women EuroCup league.
The former number 4 guard, also played for the Stjarnan team and was eligible for WNBA draft in 2010 but was not drafted.
According to her LinkedIn, she studied at Verzlunarskóli Íslands. Ragnheidur Theodorsdottir worked as a sales promoter, research assistant and subsequently as a cabin crew member for Icelandair.
Furthermore, Ragnheidur Theodorsdottir and her boyfriend split their time between their home in Iceland and Russia. They are no longer dating; apparently split up in 2017.
You can find on Instagram here.