Haley Bartlett
Haley Bartlett is the pretty girlfriend of Hal Robson-Kanu, the midfielder for the Wales National team, is blowing up media following his wonder goal that put Wales in front 2-1 against Belgium, Sam Vokes made the final closure 3-1 and it was music to the Wales team that had not reached the semi-finals of a major tournament since 1985.
Haley Bartlett's beau Hal Robson-Kanu was born on 21 May 1989 in Acton, England. Robson-Kanu began his career at Arsenal as a schoolboy aged 10. He was released by the club at 15 and joined Reading. Kanu explained about his Arsenal release
"I was one of the smallest players in the squad," he later explained. "I wasn't fast enough, strong enough or big enough."
Hal graduated to the main team of Reading in 2007 and penned a long-term contract. Since then, the footballer has been performing for the club and left it only twice, because the management decided to send him on loan.
His first loan spell came in 2008, when Robson-Kanu joined Southend United, where he made 22 appearances and scored five goals.
Later Hal managed to complete a six-month loan move to Swindon Town and one more time he didn't disanoint. Kanu took part in 20 games and netted four goals.
Robson-Kanu returned to Reading after his loan contract expired. The head coach of his parent club watched the footballer's progress and considered an opportunity to make him a regular. Robson-Kanu made about 70 appearances and fired ten goals for the club till the summer 2012.
From 2007 till 2009, Hal was capped three times for the England national U-19 and U-20 squads. In 2010 he featured in four games and contributed two goals for the Wales national U-21 team. From 2010 the footballer made seven appearances for the full national squad.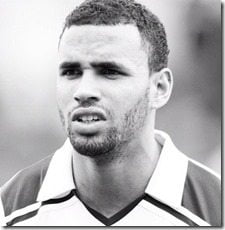 The 6'0″ player left the team when his contract expired in 2016. Though Kanu was born in Acton, according to online sites, he has Welsh eligibility through his grandmother. Being a key element of the Welsh Euro 2016 team, the country's first major tournament in 58 years, is a major achievement for the player.
But his biggest achievement is to be a daddy and the loving boyfriend of his model girlfriend Haley Bartlett.
27-year-old from Airdrie, Scotland is the daughter of Freda and Ronnie Bartlett, renown Scottish food tycoon whose family owned the Albert Bartlett & Sons Rooster Potatoes business, where Hayley now works at as their account manager.
But before she got involve in the family potatoe business, Ms. Bartlett was a student at Hutchesons' Grammar School. She was 15 when she was discovered at her school by the Glasgow agency Model Team not long after that she found herself traveling all over the world and walking in several runways for an array of famous designers.
In 2008 she was nominated for Model of The Year at the Scottish Fashion Awards, next thing she knew she was living in L.A working as a model and part time actress, she starred on ABC Family's show Greek, Mtv's the Hills.
Haley Bartlett moved back to the UK where she fell in love with the handsome Robson Kanu.
Robson Kanu and Haley are today the proud parents of their adorable daughter, some sites reported they are now married, they started dating in 2014 and she still refers to him as her talented BF.
You can check out his Instagram page here.