Sarah Felberbaum
Sarah Felberbaum is the wag of Italian soccer player, Daniele De Rossi. Her 32-year-old defensive midfielder boyfriend is currently a player for Roma and Italy's National team.
Sarah's footballer man was born July 23, 1983 in Italy. He is the son of Alberto De Rossi –a former professional player as well as the current coach of the AS Roma Primavera team.
Being born into football as the son of Alberto De Rossi clearly influenced Daniele –whom had his first steps in football with his local team, Ostiamare. Daniele De Rossi later joined the Roma youth ranks. After impressing in the youth squad, his first-team debut came in 2001, when at just 18 years old he played in the Champions League against Belgian side Anderlecht. He scored his first goal on his Serie A debut in May 2003 against Torino.
Daniele De Rossi won his first trophies with the Giallorossi in the form of two Coppa Italias from 2006-2008 and the Italian Super Cup in August 2007.
De Rossi is also no stranger to international honors. He began to play for Italy on the international stage at a young age, winning the European Under-21 World Cup in 2004. According to his player profile, the very next season he was called up to the Italian senior side. Then-Italian national team coach Marcelo Lippi took him to the World Cup in Germany in 2006, where he helped Italy win their fourth World Cup, converting his penalty kick in the final against France.
As for his personal life, we can say it has been as eventful as his playing. He is the father of Gaia De Rossi, his only child from marriage to Tamara Pisnoli. The couple was married from 2006 until their separation in 2009. Tamara gave birth to their only daughter on July 16, 2005.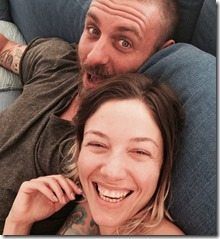 De Rossi and lovely Sarah Felberbaum have been in a relationship since 2011. Sarah Felberbaum became his second wife in last December. Sarah Felberbaum and De Rossi are also parents to daughter, Olivia Rose, born on 14 February 2014.
Sarah Felberbaum was born on March 20, 1980 (that makes her Daniele's 3-year-senior) in London, England as Sarah Frances Rose Felberbaum. She is a double threat: actress and model.
According to her IMDb page, she has had a number of roles, among them: The Jewel (2011), One Life, Maybe Two (2010) and Il principe abusivo (2013).
Sarah Felberbaum was born to a British father and an American mother and was raised in Italy since she was 1-year-old. Like most models, she began posing for the camera during her teens. The wife and mother of one has appeared in commercials and music videos. She made the transition to acting with her debut role in the 2011 sitcom Via Zanardi. She has also done TV hosting as the presenter for the 2000 Italian version of the musical show Top of the Pops, and in 2002 she hosted the Rai 1 talk show Uno Mattina Estate.
You can check out the Italian wag on her Instagram here.