Dania Gazzani
Dania Gazzani is the wife of Italian soccer player Emanuele Giaccherini, the attacking midfielder currently playing for Serie A club Bologna and the Italian National soccer team.
Dania Gazzani's hubby, Emanuele Giaccherini was born May 5, 1985 in Bibbiena, Tuscany, Italy. He joined Cesena in 2004. That same year he joined Forli on a loan and a similar deal was made with Bellaria in 2005 and with Pavia in 2007. Cesena agreed on a co-ownership deal with Juventus on August 25, 2011 on a 3 million, a 50% of that contract was retained by Cesena.
Juventus sold Giaccherini's right to Sunderland on July 16, 2013, he made his debut with Sunderland on August 17 against Fulham and scored his first goal against Peterborough on September 24.
Sunderland confirmed Giaccherini would join Bologna on a season long-loan on August 31, 2015. Giaccherini first represented Italy at the 2012 UEFA Euro in Poland and Ukraine. He was again named in Italy's squad for the 2013 FIFA Confederations Cup in Brazil and then again at the 2016 UEFA Euro in France.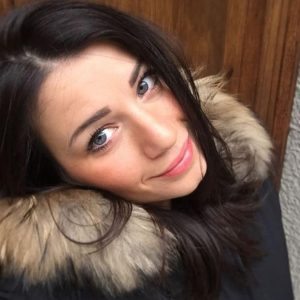 It was in 2010 that Giaccherini met his pretty wife Dania Gazzani when he was playing for Cesena, he went to a party with a party, but because he didn't know anybody so basically stood in the corner of the room without saying a word to anyone, except to Dania who went to talk to him when she spotted him all by himself, that poor thing!!
They spend the rest of that night talking, when he left, he only asked her for her name, she gave it to him but never thought she would hear from him again.
He proved her wrong when he sends her a message on Facebook; the rest is history.
Dania Gazzani was born in 1987 in Sant'Angelo, the city where they got married on June 11, 2011 in the church of San Michele Arcangelo. Together they have two beautiful girls. Giulia Maria born in October, 2012 and Caterina born in July, 2013.