Shakaira Elaine Elie
Shakaira Elaine Elie is the woman who has gotten NBA player, Kyle O'Quinn in major trouble! The woman identified, as Shakaira Elaine Elie is O'Quinn's alleged assault accuser.
Shakaira Elaine Elie has filed a lawsuit against the New York Knicks player saying she was attacked by him and the woman who was with him. The encounter resulted in Shakaira Elaine Elie's bruises to her face, head, neck, ribs and elbow.
According to the NY Daily News, Elie filed filed a suit in Brooklyn Supreme Court. Shakaira Elaine Elie was at a party at Trinity Place Bar and Restaurant on May 22.
At first she and her friends noticed a strange and tall men and a woman, believed to be his girlfriend, staring at her. She and her friends didn't make much of the situation, but as she was leaving everything turned for the worst.
Elie was waiting outside for her ride when allegedly O'Quinn and his possey also made their way out. According to Elie he tried to talked to her but she wasn't interested. Next, thing, Elie is attacked by the girl who was with O'Quinn and then he also jumped in by grabbing Elie's neck. Accoridng to her attorney, Shakaira Elaine Elie was slammed to the ground, not once, but twice.
She is suing O'Quinn and his girlfriend and the Trinity Place Bar and Restaurant, where the attack happened, for damages. The suit also states Shakaira Elaine Elie lost her bag and wallet after the brawl.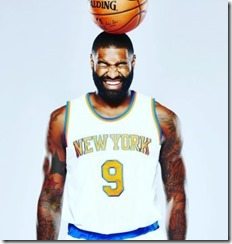 No photos of 22-year-old Shakaira Elaine Elie have been released but a Facebook profile under Poshianna Elie (Shakaira-Poshiana) was found.
Shakaira Elaine Elie also says in the suit, she had no idea who her aggressors were. After surfing the internet for two days she and her friend found photos of O'Quinn learning then, who he was and contacted authorities.
The Queens native projects was signed as a backup power forward/center for New York last year. O'Quinn, a 2012 second-round pick, is entering the second season of a four-year, $16 million contract.
The 6'10", 250-pound O'Quinn averaged 4.8 points and 3.8 rebounds in 11.8 minutes per game in 2015-16, his first season with the Knicks. The 26-year-old played for the Orlando Magic during his first three NBA seasons.
The case is under investigation.