Meet Sharon Canu
Sharon Canu is the model girlfriend of soccer player, Ashley Cole. The couple welcomed their first child together earlier this week.
According to reports, Cole flew to Rome, following the Galaxy's match against Santos Laguna last week, for the birth of his first born. Sahron Canu gave birth to a baby boy.
Her man is a left back currently playing for the LA Galaxy club and he will miss the CONCACAF Champions League quarterfinal second leg with Santos Laguna.
Born on December 20, 1980 in Stepney, London, England; Cole was raised by his mother after his father left the family. He also has a younger brother. He joined his local club Arsenal and began his professional career when he signed with them in 1998.
He went on to make 228 total appearances, winning two Premier League Titles and three FA Cups for the North London side. Cole also featured for Arsenal's 2003-04 squad that went undefeated in league play. The defender transferred to Chelsea in 2006 and became one of the club's most accomplished defenders, making 229 appearances and winning two Premier League titles, one UEFA Champions League trophy and four FA Cups. He was named to the PFA Team of the Year, England's award for the top players in all tiers of competition, four times during his storied career (2003, 2004, 2005, 2011).
After spending a decade in England, Cole moved to Italy when he signed with A.S. Roma in Serie A, Italy's top-flight professional division, where he spent two seasons.
In addition to his club career, Cole has featured extensively for the English National Team, making World Cup appearances in 2002, 2006, and 2010. The fullback also featured for England in UEFA Euro 2004 and 2012. In total, Cole made over 100 appearances for his country, making him the most capped fullback in English history.
The English defender was acquired by the LA Galaxy in January 2016.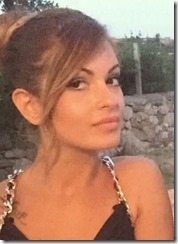 As much as we want to say his personal life has been as successful, we cant. He began dating singer Cheryl Tweedy in 2004, they were married in 2006 but their marriage was filled with rumors of his cheating until it finally broke down in 2010.
However, things seemed to be looking brighter than ever for the first time father. Sharon Canu is an Italian model, she has done some shoots appearing in local magazines.
The couple met while Cole was playing for AS Roma. The news about Sharon Canu expecting the couple's child, first broke back in December. Sharon Canu's grandfather, told the Mirror: "Ashley is very happy. He's a good guy — and my granddaughter is a beauty."
The footballer and the lovely Sharon Canu were first spotted together while clubbing in London last June.
The gorgeous Italian seems to enjoy her privacy, besides posting a couple of adorable pictures of her bump, she doesn't seem to want all the attention for her; in fact she is said to come from a regular Italian family and she does appear to be the girl next door.
Sharon Canu gave birth to a healthy baby boy in Rome on Sunday. Congrats!
You can find Sharon Canu on Facebook here.