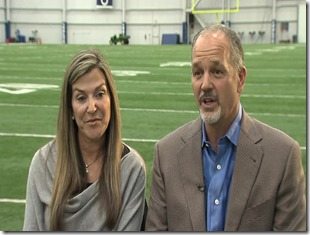 Pin
51-year-old Tina Pagano formerly Tina Heffner is the woman behind Indianapolis Colts' head coach Charles D. Pagano or simply "Chuck" Pagano. Most recently the inspirer of "CHUCKSTRONG" due to his leukemia diagnose back in September last year.
Loving, caring and supportive wife and mother are just a few adjectives to describe Chuck Pagano's wife. When the 52-year-old was diagnosed with acute promyelocytic leukemia it was a tough blow for him and his family but if it wasn't for Tina the results of his testing could have been much worst.
When Colts owner Jim Irsay addressed Pagano's illness and subsequent time away from the team, he specifically mentioned Tina's involvement in forcing the head coach to get checked out. Irsay said,
"Coach was feeling some fatigue over the last few weeks, and noticed some bruising on his body that he first thought could have been from contact on the field, or coaching, or playing with his grandkids. Through talking to his wife, Tina, she said, 'You need to get that checked out, because the bruising appears to be more and more prominent.' We had the coach get fully evaluated, and the conclusion was that he did have leukemia.
from Boise, Idaho Tina, was born on January 29, 1962. Along with hubby they are the proud parents of three daughters Tara, Taylor and Tori.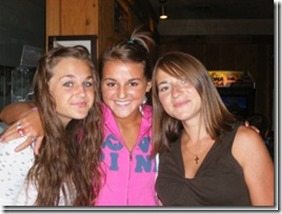 Pin
Tara studied marketing and finance at the University of Miami, she is now happily married to Kenneth Lavier, they are the proud parents of Tina's adorable grand daughters Addison, Avery and another baby girl born just last November. Taylor studies at East Chapel Hill High School, and Tori Catherine Pagano attends Mount Hebron High School.
Thanks to the support of his loving family and his wife's care coach Pagano's doctors announced on November 5, that his cancer is in remission. He returned back to the field last December after coaching his team through several text messages, emails, visits form the hospital and later from his house. No wonder, is no shock Tina's husband had received the George Halas Award earlier this week- presented annually by the Professional Football Writers Association to the NFL player, coach or staff member who overcomes the most to succeed!
What a great triumph for Tina and her family.
You can find her on Facebook here.