Vanessa Williams
Vanessa Williams is the lovely wag married to footballer, Ashley Errol Williams –the defender better known as Ashley Williams who is the captain for Swansea City and the Wales national team.
Her man was born on August 23, 1984 in Smethwick, England. Ashley began his career at West Bromwich Albion but was released at 16.
The determined teen decided to join Hednesford Town. Great performances grabbed the attention of league 2's Stockport County where he went on to make 162 appearances.
Establishing himself as a key part of the Stockport County team, Ashley was rewarded in 2007 by picking up both the Inaugural North West league two player of the year and the North West player of the year.
Ashley Joined Swansea City on loan with a view to a permanent deal in March 2008 in the same month Ashley made his national team debut. Two months later the Swansea deal was made permanent.
Ashley has gone on to captain both club and country and become one of Europe's leading defenders.
Described as a strong, uncompromising and leading contender, his 2012/13 performances assisted Swansea in winning the carling cup and achieving a place in the Europa league. This has also resulted in Ashley Williams being recognized by top teams in the premier league and speculation over a transfers are on the radar.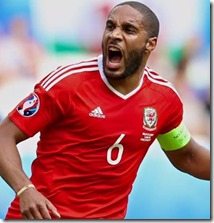 Vanessa Williams is a loyal supporter of her hubby. She is also the mother of their two children, sons Xavier and Raphael. When she can't make it to a match she makes sure to catch her husband on TV and watch him do what he does best in company of her boys.
Aware of how lucky they are, Vanessa Williams –who is an accountant by profession –and her hubby created back in 2010 a charity called Will's World in order to help out some kids who weren't going to receive any Christmas presents. According to its website, Will's World is a youth development charity.
Vanessa Williams and her her man have a permanent home in the Midlands, although for most of the year they are living in a goldfish bowl in Swansea. Apparently the couple experience the celebrity status on a daily basis after he revealed in an interview there's a bus that goes slow past their house and the driver must say: 'On your right is Ashley Williams's house', because the whole bus turns. He likes to joke and tells Vanessa: 'Look outside now'. And people are looking in."
Things tend to get pretty intense though, there have been times when folks will come around with T-shirts and programmes and say: 'Can you take this into training and get it signed and I'll come back on Thursday for it.' her hubby revealed.
By now, after years of marriage and two sons, Vanessa Williams is a seasoned wag that knows how to handle it, the mom of two isn't very into social media and enjoys keeping her privacy.