Crystal Dunn
Crystal Dunn is a notorious name not only in national women's soccer but in women's soccer in general. The 24-year-old soccer star is currently representing the US team at the Rio Olympics.
The New York native born Crystal Alyssia Dunn; is key to win US's fourth consecutive gold medal in the soccer competition at the Olympic Games.
The talented forward led North Carolina to the 2012 NCAA championship and the United States to the U-20 World Cup title that same year, Dunn scored the goal that tied the score at 1-1 and then set up a goal for 18-year-old Mallory Pugh that made her the youngest U.S. player to score in an Olympic tournament.
Dunn currently plays for the Washington Spirit of the National Women's Soccer League and for the U.S. women's national team.
She was a key member of the Under-20 team that won the Under-20 Women's World Cup in Japan in 2012. Dunn made her debut for the senior U.S. National Team in 2013.
The Spirit drafted Crystal Dunn with the 1st overall pick in the 2014 NWSL College Draft. She had a banner 2015 season scoring 15 goals for the Spirit and was awarded NWSL Golden Boot, NWSL MVP, Washington Spirit Golden Boot, and Washington Spirit MVP.
She was also NWSL Player of the Week a record six times and NWSL Player of the Month for August. Dunn was named to NWSL Best XI and averaged 0.75 goals per team game, a new NWSL record.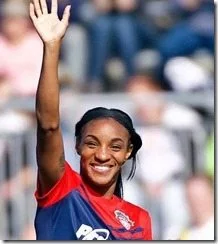 At a first glance, the 5 ft 1 in seems like your regular "girl next door." She keeps very active on social media and keeps followers and fans entertained with her images. She often uploads images with her family and teammates, but no special someone seem to be on the horizon.
During an interview, she was asked if she has had any disappointments outside of the field, the lovely soccer player answered:
Not really. I've had a pretty chill life. I have really good parents who are super supportive, and I see them all the time. I always sense their support. And soccer has been such an important part of my life that it's hard to separate soccer from my life. Now I'm thinking, Wow, have I gone through anything non-soccer-related? I've always been a really happy person.
Dunn is believed to be single at the moment. She seems to be giving her all, totally dedicated to the sport.
You can find her on Instagram here.