Trina Taylor
Trina Taylor is the proud NFL mother of quarterback Tyrod Taylor. Her 27-year-old football player son just signed a contract extension with the Buffalo Bills.
According to reports Taylor agreed to a long-term extension with the Bills –the deal runs six years and is worth $90 million, but could be worth more with incentives.
The story goes that Trina' son excelled during his first season as starter and will be staying in Buffalo, thought at the beginning it wasn't necessarily the idea. Taylor had a very solid first campaign as a starter. He completed 63.4 percent of his passes at 8.0 yards per attempt while throwing 20 touchdowns against only six interceptions –when he won a preseason competition against EJ Manuel and Matt Cassel.
Bottom line, Trina Taylor must be one proud mama, after his son's confidence and perseverance in himself, paid off on the field.
Tyrod is the only child of Rodney and Trina Taylor. Their son is known for his dual-threat capabilities. Tyrod played quarterback, safety, and returned kickoffs and punts at Hampton High School in Virginia.
Her son was the ACC Championship Game MVP in 2008 as a sophomore, leading the Hokies to victory over Boston College.
He was the 2010 ACC Player of the Year at Virginia Tech and debuted in the NFL in 2011 for the Baltimore Ravens. He was drafted by the Baltimore Ravens in the sixth round of the 2011 NFL Draft and later won Super Bowl XLVII over the San Francisco 49ers.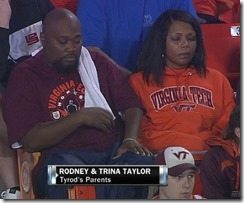 As a young boy with big aspirations for the future, Taylor received all the support at home from Trina Taylor. Her words were at the time "Just apply yourself." For Trina Taylor it was important her son kept is attitude as well as his grades up.
She remembers her son as "an easy going kid." The wife and mother of one, believes what has helped her son to achieve his goals is his ability to "stay humble." In her own words she said: "he's reserved. He likes to feel people out. He's not an arrogant kid. He's not a conceited kid. He's confident within himself, but he's not overbearing."
In return, the 1.85 m player, has said about his mother
"It's easy to get arrogant when things are going well," "But my mother always told me to remain humble because the football stuff can be taken away at any minute. She taught me to cherish the moment and to always give the Lord credit."
It's obvious Trina Taylor is a a big part of her son's success.