Almaz Ayana
Almaz Ayana totally dominated the 10.000m women's event. The 24-year-old Ethiopian born broke the 10,000 metres world record, producing one of the greatest runs in Olympics history.
Almaz Ayana won the gold in the opening track event of the Rio Olympics. 2015 world champion Vivian Cheruiyot finished more than 15 seconds after Ayana to earn the silver medal.
She is described as having the two cardinal characteristics needed for one of the most grueling races. Ayana just became the female hero for all those younger athletes who one day, dream of Olympic glory.
Get to know the new champ better in the top ten facts below.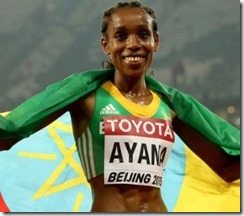 1. The Ethiopian long-distance runner was born November 21, 1991. She from the Oromia region.
2. Almaz Ayana is known for her relentless pace and agility. She competed up against Genzebe Dibaba –considered the greatest female middle-distance runner of all time, and who had beaten her this season on numerous occasions.
3. Almaz Ayana competes in the 3000 metres,5000 metres, and 10000 metres events.
4. Almaz Ayana broke the previous record set in 1993 by finishing in 29 minutes, 17.45 seconds.
5. Ayana, the second fastest in history at 5,000 meters, is new to the 10,000.
6. Her Olympic title and world record was only her second time contesting the distance.
7. She is the 5000 m World Champion Bronze Medallist 2013. Among other honors we can mention, she finished fifth at the 2010 World Junior Champs.
8. Almaz Ayana won her first senior title over 5000 metres at the 2014 African Championships in Marrakech.
9. In the 2015 IAAF World Championships in Beijing, Almaz won the 5000m course beating Genzebe Dibaba by a long distance.
10. Almaz Ayana is a five time Diamond League meeting winner.
You can check out the Olympic gold medalist and world record setter on Facebook, here.