Oscar Lindberg
Oscar Lindberg, the Swedish hockey player for the Rangers scored a couple of goals in Thursday's Game 4 win over the Senators, making us wonder, is he dating anybody?
The 25-year-old was born October 29, 1991 in Skelleftea, Sweden; he is one of three children born to Christian and Katarina. Oscar has one twin brother named Johan and a sister, Amanda.
Oscar Lindberg began playing in his hometown club team. He made his debut in the Swedish Hockey League during the 2009-2010 season, at age 18. He finished with one goal and two points in 36 games, Lindberg had two goals in 10 playoff games.
He was selected by the Phoenix Coyotes in the second round of the 2010 NHL Draft. He was the No. 57 pick. While playing with The Coyotes he helped Sweden to a fourth-place finish at the 2011 World Junior Championship, scoring twice with four points in six games. He then traded to the New York Rangers on May 2011.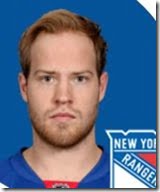 He came over to America in the summer before the 2013-2014 season to play for the Hartford Wolf Pack, the minor league affiliate of the Rangers.
While playing the Hartford Wolf Pack he became the second highest point producer in two consecutive seasons, showing improvement in each season. Following a successful training camp before the 2015-2016 season, Lindberg earned himself a spot on the Rangers roster.
He made his NHL debut at Madison Square Garden playing as the center of the third line. Last year Lindberg signed a two-year deal carrying a $650,000 annual salary-cap hit.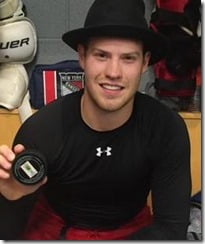 The 6 ft 0 in player, is certainly growing into the consistent player the Rangers have envisioned. He has been described as outstanding since taking over the steady role as fourth-line center. The young but matured player recently said about his success on the rink
I'm just trying to make the most of my opportunity here and contribute what I can to help us win. I can only control how I play."
Last October the handsome player missed 5 games due to a hip injury. When players get hurt they usually have that close circle of people to help them get better. That may include, a supportive girlfriend or dedicated wife but with Lindberg we're jut not sure. He keeps a low profile when it comes to his personal and private life.