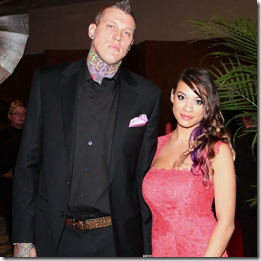 Miami Heat Chris "The Birdman" Andersen's girlfriend and fiancée is Tina Wiseman. The couple was seen together at Chris Boshs' 29th birthday Moraccan themed party at a Miami Hotel.
Tina's NBA stud had a tough childhood, his mother took off and his father tried to sell his art work all over the world. He had the opportunity to pick between military school and a foster home.
"I'm thankful that I actually got the choice to pick one of the two, and I picked the children's home."
Tina's boyfriend dropped out of Blinn College in Texas and looked at alcohol and drugs to solve his problems. Andersen had his first taste in the majors when he signed with the Denver Nuggets, which were struggling at the time. Then he was noticed in the NBA as a fan favorite and signed with the New Orleans Hornets.
Andersen was living a luxury  life but eventually got addicted to drugs and alcohol resulting of his many issues like losing his home and everything he possessed in Hurricane Katrina. But also that his then-fiancée Brandy Newman ended their engagement. He said:
"I always had control over my drinking. It's just when it hit me all at once I was like What do I do? I was like I'll find the answer at the bottom of a bottle, that one didn't have the answer. Try a can, that can didn't have the answer. Solve one problem 10 more come along."
Tina's sweetheart was going through such hard times, went to rehab and moved to Denver were he passed weekly drug tests for two years. And now it seems his  life is changing for good, now that he's found the love of his live Tina Wiseman and are starting a new chapter together.