Shirley Williams
Shirley Williams is the wife of MLB legend and Hall-of-Famer, Billy Williams. Her 78-year-old husband threw the ceremonial first pitch in the Cubs' game 3 of the World Series against the Cleveland Indians.
This is a special pitch since it'll be the first World Series game at Wrigley Field in 71 years.
For those who haven't even heard of Williams, probably because most likely you weren't born at the time; let me tell you that he is a Cubs Legend and Six-time MLB All-Star.
The great Billy
During his 18-year career (16 of which he spent it with the Cubs), he batted .296/.364/.503 with 392 home runs.
Billy Williams is former MLB outfielder who played in baseball primarily for the Chicago Cubs. In 1961, Williams won the National League "Rookie of the Year" award.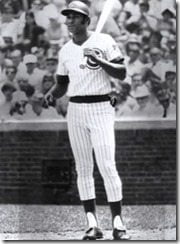 Williams, inducted into the Baseball Hall of Fame in 1987, hailed from rural Whistler, Ala., just outside Mobile, where his high school had no baseball team. At 15, Williams played in adult amateur leagues with men who would pick him up at his house and drive him to ballparks throughout Alabama.
Two days after high school graduation in 1956, Williams was offered $1,500 to sign with the Cubs organization by a scout who lived in Mobile.
Despite signing a pro contract, Williams did not have it easy at first. He faced blatant discrimination in the minors and briefly quit the game while playing for Double-A San Antonio in 1959.
When he finally decided to return to the minors, he was rapidly promoted to Triple A, played 18 late-season games with the Cubs. He spent most of the 1960 season in the minors before another late-season call-up. Subsequently made the opening-day roster in 1961 at age 22.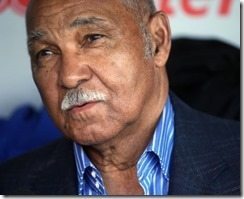 He went on to set Cubs rookie records with 25 home runs and 86 RBIs in 146 games his rookie season.
Personal Life
Now, it would appear his private life has run as smoothly as his MLB success. While in the 8th-grade, he met Shirley Williams and married her by age 20.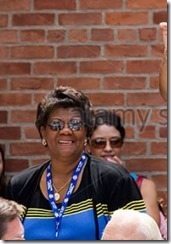 According to an article on the Chicago Tribune, Shirley Williams is described as soft-spoken yet firm in her opinions type of woman.
Mrs. Williams said, people would be surprised to know that her husband's idea of total bliss, is a long list of home maintenance projects that she keeps while he's on the road. The couple has been married for more than 60-years.
Shirley Williams is the mother of the couple's four daughters: Valarie, Nina, Julia, and Sandra.
Shirley Williams and her husband moved to Glen Ellys in 1980; right after the Cubs promoted Williams to their major league coaching staff.
In all, he spent 19 seasons as a major league coach with the Cubs (15 years), the A's (3 years) and the Indians (1 year). They Williams previously lived in California.