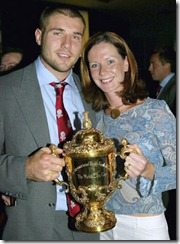 Abbie Cohen will be dancing in Strictly Come Dancing season 11 and we are sure there is nobody more perfect and fit to learn how to dance than with Rugby hunk Ben Cohen!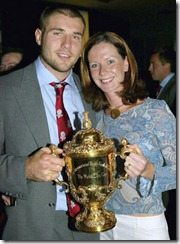 Ben is married to Abbie Cohen (Blayney), with twin daughters Harriette and Isabelle (born 2008).
Cohen, was working in a Northampton warehouse when he met Abby 13 years ago.
They married approximately the time of England's 2003 cup victory in Australia, at which his mother-in-law was an invited guest.
The star winger, whose footballing uncle George Cohen was in the 1966 England World Cup-winning side, left his club, Northampton Saints, to play for the French side Brive.
The pair began to split their lives between France and their 16-acre country estate near Northampton.
Abbie's mom said:
When I got to their house I was given one room to live in with my 14-year-old Persian cat, Jilly. Ben and Abby treated me and my cat like we were in prison – they were so disrespectful. Ben issued me with a set of rules – he thought he was Lord of the Manor.
When Abby saw how miserable I was she got upset, so Ben asked me to leave the house until the babies were born. He told me he'd drag me out by my hair if he had to. Ben made me feel worthless. I started to wonder if my life was worth it – I was so down.
Mrs Blayney and Abby had a fight that was very noisy. Mon said:
I woke up in the middle of the night so upset

I felt like I had burnt bridges with Abby and would never see those beautiful babies ever again.

I texted Abby, telling her she was killing me, and went for a 30-minute drive to clear my head.

When I came back, I found the police knocking on my door, checking up on me – Abby had called them fearing I was going to kill myself.

Ben is gorgeous and deep down there is a lovely person there.

Being realistic, I probably don't have a lot of years left so my big hope is just that I will one day see them again.
But we don't want to read about sad stories, but are willing to see Abby dancing!
Follow this great couple here.