Cynthia Rodriguez!
Is Cynthis Rodriguez the girlfriend of Boxer Canelo Alvarez? Who? For many Latin fans the name of Canelo Alvarez brings a lot of feelings,  like Cain Velasques in the UFC he is one of Mexico's dearest sons and respected by the Hispanic community all over the globe, Canelo has dated several beautiful women over the years, some relationships have been public others not so much.
RELATED STORY : MEET CANELO ALVAREZ'S NEW GIRLFRIEND FERNANDA
The list of girlfriends Canelo has dated include actress Kate del Castillo, former Miss Mexico Marisol Gonzalez, singer Belinda, Colombia beauty queen Barbara Turbay, but who is Canelo Alvarez dating now? we heard he is dating the pretty t.v host Cynthia Rodriguez, and if that is true then check what FabWags can tell you about her!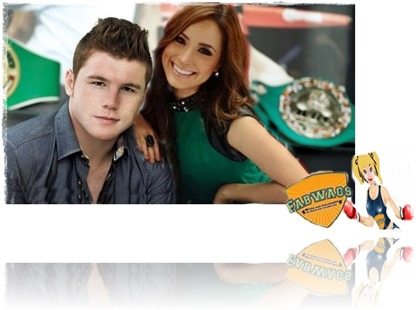 Canelo Alvarez the undefeated Mexican professional boxer in the Light Middleweight division was born Santos Saúl Álvarez Barragán the youngest of eight brothers in Guadalajara, Jalisco.
Canelo is one of the many nickname his fans have become familiar  with, other nickname Alvarez had had are Cinnamon, Redhead, and Redheaded horse, but I am pretty sure the ladies who had dated him call him Saul.
Among these ladies is Marisol Gonzalez this ridiculously girl is the 30-year-old actress, former beauty pageant, sports reporter born in Torreon, Coahuila, Mexico on March 12, 1983.
Marisol won the tittle of Nuestra Belleza México 2002 and competed in the Miss Universe 2003 pageant in Panama, but sadly Marisol didn't even made in to the top 15, the winner was Amelia Vegan Miss Dominican Republic.
Marisol and Canelo confirmed their relationship in 2010, at the time a happy 19-year-old Canelo talked about his relationship and the age difference  with Marisol 27, a sports reporter with Televisa Deportes.
He vivido muchas cosas y eso no es lo importante; nos queremos mucho, nos entendemos y los años no importan, no influyen para nada, todo ha ido muy bien", aseguró el boxeador en entrevista con Nueva.

"Aparte de lo hermosa que es por fuera, en su interior lo es mucho más. Tiene algo especial. Ahora que la conozco mejor, me encanta cómo es.

Tenemos una bonita relación. Estoy muy contento, nunca me había sentido así y quiero aprovecharlo al máximo".

"Lo queremos llevar más tranquilo, fuera de todo esto, pero somos figuras públicas y no es posible. Mi vida privada es importante, pero entiendo que estoy expuesto ante los medios.

Por supuesto que me encantaría llevar las cosas fuera de esto, pero es una relación hermosa, transparente. Los dos estamos contentos".

Igualmente, el boxeador espera que nadie quiera faltarle al respeto a su novia. Habrá muchos hombres que volteen a verla por lo guapa que es, pero yo confío en ella.
I've been thru many things, but that is not the important, but that we love each other, we understand each other and the age gap is not important, everything has been very good.

Besides her beauty in the outside her inner beauty is overwhelming, she has something very special, now that I have come to know her, I just love the way she is, and we have a beautiful relationship.

I am very happy, I had never felt this way and I want to enjoy it to the full extent of it, we want to take things slowly, outside of the public eye, but we a public figures and that is not possible,. My private life is important, but I understand that I am exposed to media, which is why I would love to stay out of the public eye.

I know there will be many men who would turn their faces to look at Marisol, but I trust her.
Marisol and Canelo announced their engagement in December, 2011, they broke up shortly after that announcement but reconciled in 2012, but broke up for good in May of that same year, she was linked to Mexican soccer player Rafael Marquez and Canelo to actress Kate del Castillo, who was seen giving her full support at his fight against Shane Mosley in Las Vegas.
Although neither of them confirmed they were dating and simply said they were close friends. Kate del Castillo a famous actress once married to the former Mexican soccer player Luis Garcia, didn't have any intention to start a relationship with a younger man, after her second failed marriage to young actor Aaron Diaz, she had had enough; it was Kate's dad actor Erick Castillo two told media el Canelo pretended his daughter but she just wasn't into him. Ouch!
It was rumored El Canelo could share the starring role in Juan Osorio's soap opera base on him with his former flame Marisol Gonzalez, although Marisol hasn't confirm her participation in the production set to next June.
But Canelo Alvarez didn't stay single, weeping over Kate's rejection,  media started to follow his every step and that led them to the Cynthia Rodriguez. The 29-year-old contestant in La Academia the Mexican reality musical talent show similar to American Idol, where Cynthia finished fourth.
Cynthia Deyanira Rodriguez  Ruiz was born on May 5th, 1984 in Monclova, Coahuila, Mexico.
Cynthia participated in the Mexican reality show Desafio de las Estrellas, but she was voted off on the final days of the show.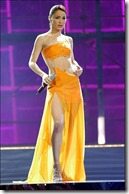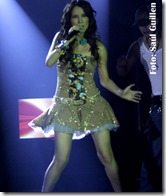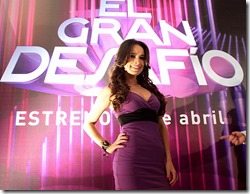 Asa singer she released her album "Soy" (I am) in 2006, she was chosen to perform the theme song for the Mexican t.v reality show Looking for a Man. She also performed the theme songs for several soap operas like "La Fuerza del Destino" for Mujer Comprada, "Si No Estas Conmigo" for Amor en Custodia.
Her second album "Provocame" (Provoke me) was released in 2008, and "Tu como Yo" (You like Me) her third album was released in 2010 as an actress Ms. Rodriguez has been in over 7 soap operas in Tv Azteca and has been the hostess in several tv shows like Festival Azteca Music.
According to rumors Cynthia and Canelo Alvarez have been dating for a couple of months after they met in Los Angeles when she flew there to record her song "Quiero ser grupero', he was love struck by her, sources said.
"Canelo couldn't take his eyes off Cynthia, and didn't even hesitate when he approached her and talked to her, and well the rest in history.. the same source added.
"Así es, está feliz de la vida al lado de Cynthia Rodríguez, quien es hermosa. La verdad es que él siempre ha tenido suerte para que la belleza lo persiga, y ahora es ella quien se ha ganado su corazón y 'Canelo' está muy enamorado".

"Él quedó flechado por la belleza de Cynthia, y se decidió a pedirle que fuera su novia. En este momento se está cuidando de las cámaras, por precaución, pues llevan poquito, aunque estoy seguro de que en cuanto esta nota salga a la luz, ninguno lo negará",
That's right,  he is happy with Cynthia Rodriguez who is very pretty, the truth is that he has always been lucky with the ladies, and now it is Cynthia who won her way to his heart, he is madly in love with her.

Overwhelmed by her looks and personality , he asked her to go on a date and then to take the next step and try dating. Right now they are being careful about media because it's early in their relationship, but I'm sure after this story gets published, neither of them will be able to deny they are dating.
You can follow Canelo Alvarez' new girlfriend Cynthia Rodriguez on Twitter here
UPDATE!
In June, 2014, Canelo Alvarez was spotted with Colombian model Barbara Turbay, the stunning brunette crowded Miss Colombia in 2012 denied meeting Canelo even less dating him months before her romantic getaway with the Mexican boxer denied knowing him.
Canelo's rumored girlfriend Barbara turbay was born Barbara Cristina Turbay Ridao on August 15, 1991 in Bogota, Colombia, to Nancy Ridao and Antonio Turbay; her cousin Paola Turbay was Miss Colombia 1991. She studied communications in Colombia but currently lives in Miami.
Barbara represented Colombia at Nuestra Belleza Latina 2013, she placed 4th and Miss El Salvador Marisela Demontecristo won the pageant. Turbay made it to the top 30 at Miss World 2012.
It's not clear if she and Canelo Alvarez ever had a serious relationship or if it was just a fling, no more photos of Barbara and Canelo were found after their romantic weekend at the beach where they couldn't keep their hand of each other.
Early in 2015 it was rumored Canelo could be dating young Mexican singer Belinda who once dated Mexican soccer player Giovani Dos Santos. The rumor started when they arrived at Miami International Airport together, after spotting the media they went their separate ways.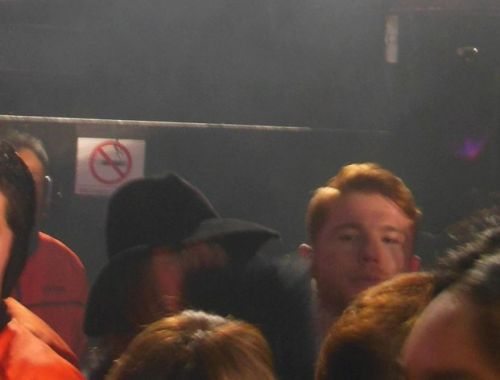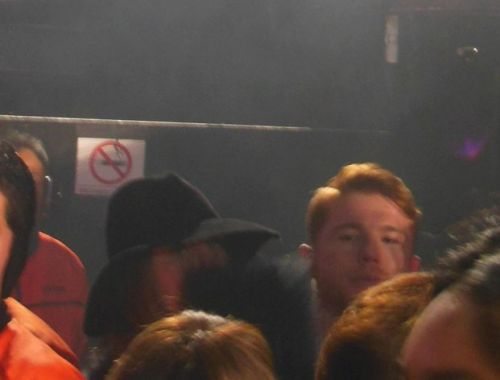 Weeks before Canelo's fight against Miguel Cotto, Latin sites reported he and Cynthia Rodriguez rekindled their relationship, they reported that a photo of her wearing boxing globes was posted to send her support and love to Canelo.
But then again neither of them confirmed their relationship when we approached them for comments.